Woodland Walk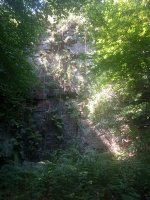 Tue, 27 Jul 2021
1 likes
It's no forest,
this assemblage of trees,
with crumbling tarmacadam
winding through it,
occasionally revealing much prettier setts
laid a century-and-a-half ago.
Vertiginous stairs the locals call
"The Cat's Steps" lead in or out,
depending on your direction of meander.
A troop of mushrooms
are privates off parade
in the dell, between the path
and the forbidding, heroic rock
with its caves too damp for scrolls
or squirrels between trees.
A charmless goldfinch is clearly lost,
a passerine passing through,
for this woodland is anything but low.
And into the sunlight:
Hispanic weather,
lost on its way south,
loitering here in Levelupland,
teasing us with its promise,
before the inevitable rain.