The Love of the Loveless (Chapter 6) (4)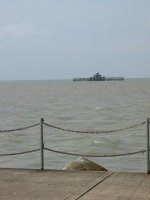 Sat, 02 Mar 2019
      "Have what you like," mum said.  "I don't care what it costs, because I'm paying."
      "No you're not, mum," said Karen.  "It's your birthday."
      "No arguments," said mum, tapping her hand on the table.
      It was always the same.  It meant something to her to be able to spend her money now that she finally had some.  We left it there.  We gave our orders and the waitress went off with them.
      We sat quietly for a few moments.  Natalie took out her phone.  Karen was straight on her.
      "Not in here, please.  I did tell you."
      Natalie scowled at her.  "Mum.  I'm switching it off.  I do know."
      "Oh, sorry."
      Rod reached into his pocket for his phone, too.  "Good point.  No interruptions."
      "I switched mine off before we came out," said Karen.
      "I haven't brought mine," said mum.  "I don't really use it, anyway.  It's handy if I have an emergency."
      Natalie glanced at me.
      "You not got yours, uncle Will?"
      "I don't have one."
      Her mouth dropped open.
      "You don't have one?  Not at all?"
      "Nope.  Not at all."
      "Really?  That's amazing."
      "Is it?  It wasn't many years ago that it was amazing if someone did have a phone."
      She seemed genuinely baffled.
      "But - but how do you keep in touch with people?"
      "I've got a landline at home.  I use email, too.  I'm not a complete brontosaurus.  Don't forget, you were brought up with them.  It's all you've ever known.  I wasn't."
      Rod piped up.  "I'll be honest.  I hate the things.  But I can't do without it for business now."
      Mum fiddled with her handbag.
      "I remember a time when only the rich had a telephone.  If you wanted to ring someone, you went to a phone box.  We used to write letters, too."
      "Times have changed, gran," said Natalie.
      Mum smiled.  "Which is one of the reasons I'm glad I'm the age I am.  It's all moving too quickly now, all this technology.  I don't think its makes people any happier."
      Natalie shook her head.  "I'd be lost without it.  Everyone at school has one."
      "So does everyone at work," I said. 
      "Then don't you feel left out?"
      "Nope.  I feel free."
      "Free?"
      "Free.  No need to keep checking status updates, and 'likes', and texts and all that.  It's a kind of slavery, isn't it.  And an addiction.  That's what they're designed to be.  Addictive."
      "He's got a point," said Rod.
      The other thing, of course - which I didn't want to mention - was that there wasn't anyone to contact me, anyway.  Not that that was a problem for me.  But I didn't want to have to explain.  I didn't want anyone feeling sorry for me.  I certainly didn't feel sorry for myself.
      "Talking of school," mum said.  "How are you doing, Natalie?"
      "Alright thanks, gran."
      "She's doing brilliantly," Karen put in. "Her teachers say she's on course for straight 'A's in her A levels."
      "Oh, well done.  It's nice to know we've got some brains in the family somewhere."
      Thanks, mum, I thought.  Bless her.  She didn't mean it like that, I know.
      "What A levels are you doing?" I asked.
      "Politics, Sociology and English."
      "Wow!  Good mix there.  They're the ones I'd have chosen."
      I sensed that Rod wasn't so impressed, but he didn't say anything.
      "Are you planning on uni, like Adam and Chris?"
      She pouted.  "Sore subject."
      "She's definitely Oxbridge material," said Karen.  "Just like her brothers."
      "I've told you what I think about that, mum.  No need to go over it again."
      "She wants to go to a redbrick," said Rod.  "Or, rather, a concrete."
      "I don't want to go to Oxford or Cambridge."
      "But your life will be made for you," said Karen.  "Think of the doors it will open."
      "Exactly!"  Natalie was stirring her straw furiously now.  "I want to make my own life.  And if the doors are going to open, I want to be the one pushing them.  I don't want them to be automatic."
      My heart did a leap inside me.  I couldn't contain myself.
      "Good for you, Natalie.  Do what you want.  Not what others want."
      Karen gave me a look that made me glad she wasn't holding a knife.
      "I'll do my best, uncle Will," Natalie said.
      "What do you think you'd like to study?"
      She grinned, confidently - eyeing her dad.
      "Well, that's easy.  English and Philosophy."
      I heard Rod groan.  It's what I wanted to hear.
      "Exactly the subjects I'd choose," I said.
      "Yes," said Rod, tiresomely.  "Just what the world needs right now.  Some Shakespeare-quoting philosophers."
      I turned to him.
      "How sharper than a serpent's tooth it is to have a thankless child, Rod."
      He gave me a blank look.
      "King Lear," Natalie said, catching my eye.
      "Precisely.  Act One, Scene Four.  It's a great play.  One of the great tragedies.  All about human suffering and kinship.  The meaty  stuff."  I glanced at Natalie, who was winking at me. "English and philosophy all wrapped up in one neat sentence."
      A silence descended on us.
      Then Rod cleared his throat suddenly.
      "Changing the subject... I've got a joke for you, Eve.  I think you'll like this one.  It's not very, erm..."  He wiggled his fingers to indicate quotes.  "Politically correct, I'm afraid."
      I saw Natalie's eyes roll again.  We both knew what to expect.  Rod loved telling his jokes. Or rather, I think he loved to hear himself telling them.  He'd perfected his performance techniques over the years.  We got all the voices and accents.  All the gestures and expressions.  All the wince-inducing stereotypes.  He took a breath and flexed his shoulders - building himself up for it.  Mum was chuckling already.
      "Paddy goes on holiday to New York, and he goes into a bar and says to the bartender 'Oi'll have tree shots of da best Oirish whiskey in da house, sorr.'  So the bartender gets him his three shots, and he drinks them straight down, one after the other, and then he gets up and leaves.  This goes on for about a week.  Every day, he goes into the same bar and says 'Tree shots of da best Oirish whiskey in da house.'  Alright?"
      Mum was quaking now - holding her hand over her mouth, possibly to keep her dentures in.  Karen looked at him in either admiration or disbelief - it was hard to work out which.  Natalie sat on her hands and started to rock slowly.
      "So one day, the bartender says to him 'Say, pal... doncha tink it wud make more sense if I's put all da shots in one glass fer yuz?'  So Paddy says 'Ah, now well you see, sorr... Oi've got two brudders back home in de old countree... Moichael and Sharn - and every toime Oi'm away, Oi go into a bar an' Oi orders a shot for each o' dem as well as one fer meself.  It's a way o' rememb'rin' 'em, loike.'  Okay?"
      I noticed someone at the next table listening in.  They seemed amused - either at the joke or at the arse Rod's was making of himself.  He was completely oblivious, of course - wrapped up as he was in his raconteur brilliance.
      "So, another week goes by, and then Paddy goes into the bar one day and only orders two shots.  'Hey, buddy,' says the bartender.  'Wassup?  Somethin' happen to one of yuz brudders?'  'Ah, no... not at all not at all,' says Paddy.  'Me brudders are foine.  It's me.  Oi've decoided to give up da booze.'"
      Mum clutched her mouth and dipped her head forwards alarmingly, like she was about to be sick.  The veins were throbbing in her forehead.  Karen patted her on the back.  Her face was straight, so she'd heard it before.  Or maybe she hadn't.  Natalie sucked at her straw.  Rod grinned over the top of his pint. 
      "I thought you'd like it," he said, then took a mouthful.
      "Oh God!" mum gasped, regaining her composure slightly.  "That really tickled me."
      Rod seemed entirely satisfied.
      My son-in-law.  He's so funny.  He always makes me laugh.
      I remember that dad didn't have quite the same opinion.  They never saw eye-to-eye.
      I don't know what Karen sees in the dopey cunt, boy.  Do you?  Unless his dick's as big as his bank balance.
      I leaned forwards.
      "I've got a joke, too.  A woman goes into a pub and asks for double entendre.  The barman says to her 'See that woman over there?  I've just given her one.'"
      Natalie had a near-disastrous blow-back on her straw.  Karen glared at me again.
      Rod coughed with embarrassment.  "Fine."
      "I'm not sure I get that one," said mum.
      "I wouldn't worry too much, mum," said Karen.  "It wasn't that funny."
      "I thought it was," said Natalie.  "I must remember it."
      "I'd sooner you didn't.  I think your uncle should know better."
      "I'm sorry.  I just thought it was a funny play on words."
      "So did I," said Natalie.
      Rod harrumphed again.
      "Do you want to open your cards now, Eve?"
(to be continued)