In the Dark Again - A Craven Danger Mystery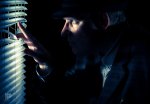 Wed, 03 Aug 2016
Betty Felcher flipped the switch on the office intercom.
"Mr. Danger?"
"Yeah, Betty, what is it?"
"What kinda name is Craven? Sounds depraved."
"Well, it's like this, Betty. Just before I was born, my mother would lug me around the neighborhood lookin' like she just guzzled a barrel of stale beer - come to think of it, she always had that look - anyways, when she was haulin' my tiny caboose around she was always cravin' these oddball food combos, like pork egg foo young with a scoop of pistachio ice cream and a tall glass of iced-cold pickle juice. Or a baked potato covered in chocolate sauce and topped with a pile of jalapeno peppers and tiny marshmallows. So when I was finally born she said she couldn't think of no better name for me than Craven. 'Cause she was so hungry to have me."
"I think ya ma was just droppin' her g's when she mentioned that to the doctor, Mr. Danger, 'cause that ain't how ya spell the cravin' your mother was talkin' about. According to the dictionary, the craven that's on your birth certificate means: cowardly, lily-livered, faint-hearted, chicken-hearted, spineless, timid, fearful, weak, feeble, a cheap date, not very romantic--"
"Hey! You're makin' some of that up!"
"On the other hand, maybe the doctor took one look at you and had a strong feelin' about the sort of craven/craving you'd turn out to be. The yearning kind, or the kind whose knees turn to butter when the door creaks open."
"Don't start with that 'yellow belly' stuff, Betty. Because every time you do it makes me feel like you ain't got much faith in me. And I've explained to you a million times about the creakin' door!"
"Tell it again. It gets better and worse every time ya tell it."
"How can a thing get better and worse at the same time?"
"It's like a first kiss, Mr. Danger. Just when ya thinkin' it can't get any better than that, the lousy gorilla goes an' runs his crummy paws all over a girls seat cushion! That's how."
"Oh."
"Now get on with the story. I'd like to see how it turns out this time."
"Like I told you before, Betty, it was my first day at detective school."
"Ha! That part always makes me laugh, Mr. Danger. You had to pay someone to make you the man you are today."
"Very funny. Can I continue?"
"Sure. Go head. Ya know I once had an Uncle Ned who had to pay someone to be the man he was and he ended up with a steady job that paid money. You shoulda gone to his school, Mr. Danger. Then maybe you woulda been able to take a girl out once in a while on a Saturday night. Dinner. Dancing. Carriage ride in the park. Late night coffee at the diner, where the look in your eyes was all the talkin' she'd need. If only you'd gone to that school."
"As I was sayin', Betty. On my first day at detective school they give me a .45 and put in a room all by myself. I says, 'What am I supposed to do in here?' My instructor Raphael says, 'Just sit in this chair and wait. You'll know what to do when the time comes. We hope.' So I sit in the chair, gun in hand. Raphael turns out the light and shuts the door behind him. Now I'm in the dark and start to sweat a little. I don't like the dark. But I pull myself together and don't scream like I used to do at home. Then I feel something crawling down my back. Like a spider or something. It was almost like I could feel each one of its legs as it made its way down my spine and into the back of my shorts. Now, Betty, I don't need to tell you how ticklish I am. It's downright embarrassing."
"On account of it makes you lose control of your bladder. Yeah, I know. Ha."
"Then I hear a knock at the door. 'Who is it,' I says. But no one answers. Then the door starts creakin' open. Real slow. Slow as molasses in Alaska. That's when I feel the spider again. Only he ain't movin' anymore. And it's the darndest thing, Betty, but I swear that spider starts ticklin' me! Like it was standin' on my backside kneadin' bread, or just havin' himself a little dance before he called it a night. I tell ya, Betty, the more it tickled the more I felt I had to put my bladder, or that spider, out of its misery.
"So I reach my hand down the back of my shorts to put the pinch on the eight-legged rascal, only I forgot it was the hand that was holding the gun."
"How could you forget a thing like that, Mr. Detective? Did the gun have five stubby fingers and a sweaty palm?"
"You know darn well it didn't, Betty! It was dark. My senses wasn't bein' them selves. Then I heard the door go from a slow creak to being kicked open with brute force. That's when the spider bit me and I shot a hole in the back of my trousers. My brand new gaberdine britches, too! Then I look up to see Raphael standing at the open door, and me sittin' there with my gun-hand down the back of my shorts, just as my bladder decided it wanted in on the fun, too.
"Then Raphael says, 'I wanted to test your nerves under dark and mysterious circumstances, Mr. Danger. Perhaps another day.' Then he goes and gives me a D minus on my very first test! How humiliatin'!"
"You never told me about shootin' a hole in your pants, Mr. Danger. I can't wait to hear what happens the next time ya tell me that story."
"Oh, you don't wanna know, Betty. Some things are better left a bitter memory."
Photo credit: https://www.flickr.com/photos/turkian/22627397656/