Vengeance is My Middle Name - A Craven Danger Mystery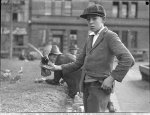 Wed, 18 Mar 2020
"Oh, yeah! Well, do me a favor, Betty. When you climb down from know-it-all mountain, go jump in who-asked-you-in-the-first-place lake!"
"Suit yourself, Mr. Danger. I was only trying to help."
"Perhaps I can help," said the girl behind the counter. "We here at the Gotham bookstore offer a wide variety of literary titles. Emily Dickinson, Langston Hughes, Proust. Whitman. Twain."
"How about Jack Blackheart III?" said Craven.
"I'm afraid we don't carry that author's work."
"You don't have Vengeance is My Middle Name?" 
"Sorry, no."
"I told you," said Betty. "You were out of your league the minute we walked through that door. But you wouldn't listen."
"Ain't you off that mountain yet, Betty? How can they call themselves a bookstore and not carry the works of Jack Blackheart III? Best dime store novelist is the business. The genius creator behind Jeff Stoker, the Rooftop Detective. All about a down on his luck detective who gets evicted from his office. So he sets up shop on the roof in old man Dawson's pigeon coop. Old man Dawson is a retired detective with the NYPD who takes Jeff Stoker under his wing, and together they seek vengeance on the evil-doers of this great metropolis."
"Have you tried the bus station or the corner drug store?"
"Oh, I'm sorry, miss," said Craven. "Is Jeff Stoker too low-brow for the high-brows? I'll bet if he wore a top hat and had a pigeon coop on top of the Waldorf you'd be all over the guy."
"Listen, mister, I'm just a kid working her way through school. I know all about low-brow. I was raised low-brow. My pop reads Dick Tracy and my ma thinks Little Orphan Annie is the cats pajamas. Me? I tune in every Saturday night to listen to Gangbusters on the radio. But I happen to know that Jack Blackheart III is so low brow he'd have to crawl out of the deepest, darkest hell-hole to reach the status of the worst of the low-brow. My pop keeps a copy of Vengeance is My Middle Name next to the toilet in case of emergencies. My ma thinks we should leave a copy on the kitchen table to draw flies away from the soup. As far as I'm concerned there isn't a hole deep enough for the world to feel safe from the wretched convulsions of Jack Blackheart III's literary dung heaps.
"Let me recite you a passage from Vengeance is My Middle Name," continued the attendant. "It wasn't my intention to save it to memory. It just got stuck there, like a bad dream that won't go away. The opening passage goes like this,  As I sat down in my new surroundings I froze with fear as my new coop mates gave me the stink-eye and pecked at my fedora. 'Ah, c'mon fellas', I said. 'Before this day is over we'll be lickin' each others feathers and layin' eggs like we was family.'  That was beginning and the end of my fascination with Jack Blackheart III." 
"Ah geez," said Craven. "Now you've gone and spoiled it for me!"
"Oh, don't worry," said the attendant. "I'm sure he laid plenty more eggs before he put his pen down."
"Come on, Mr. Danger," said Betty. "Cheer up. I'll buy you a bag of popcorn in Central Park. We can grab a bench and feed the pigeons. Maybe I'll even get one to peck your fedora."
"You think? Then you better make it two bags, Betty. I got a big fedora."
Photo courtesy of Wiki Commons: https://commons.wikimedia.org/w/index.php?sort=relevance&search=pigeons+...(Circular)_Quay,_Sydney,_22-6-1935_-_by_Sam_Hood_(3284118942).jpg