There's Still Enough Time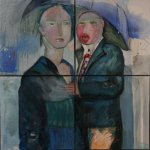 Sat, 10 Jun 2023
He looks so nice;
an unfolded smile, harmless eyes.
No thoughts at the front,
only the manners, his mother
wrapped up and gave him,
when, as a boy, he tried rudeness.
And hid in his room, melting 
in the tarry liquids of shame.
And his wife with her bell ringer's face,
crammed into the tiniest bag,
held it down as it wriggled, zipped shut.
Confused, is she happily married?
So long ago, she worried herself sick that
he would die in some freak accident 
or leave her for the greengrocer's daughter.
Now it's set, hardened, peeling in places.
They look more than normal
in their new clothes, ten years old.
His thoughts at the back, so active,
hovering around violence and lost flesh.
If only there was some way to make her vanish.
There's still enough time, just.