Goodbye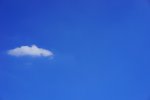 Mon, 29 Mar 2021
3 likes
He drifted out of sight,
the abundant cloud I'd been watching all morning—who, on his way, shed small parts
in favour of a sleeker physique. 
The wind carried him off; he couldn't float on his own. It was cold—the kind of cold that passes skin and caresses bone. 
I shed a tear, too, watching the blue—
A sea of possibility. Yet, 
nothing at all; just an illusion, a trick of the light. 
It was beautiful, though, I had to admit. 
Seeing all he'd left behind.