Amy Amy Amy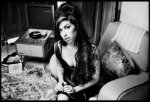 Mon, 03 Aug 2015
Sailor-tat marionette
a fag-end fishwife with your filthy laugh
and oiled piston hips, a hot, wet Minnie Mouse.
Gutter mouth.
 
Anachronism,
getting out of your head and into your body,
Egyptian kohl Jewish princess, lioness.
Faithful as water. Cheating girl power.
 
I see you making tea amongst the journalists,
a smudge in the type,
your fingerprint on the lens.
We all saw a darkness at the edge of things,
a little Hyde in the Jekyll,
but for that we loved you all the more
and fed it.
 
Filterless and blunt
as nicotine.
Trumpet mouth and chocolate soul,
everyone and no-one's mate,
you'd have put the vodka in the tribute pile
on heaps of others' pain.
Stubborn.
 
But without it.
Without the darkness.
Without the black keys, bum notes and
tottering tattered beehive,
throwing shoes at adoration
cussing us, a bunch of 'monkey cunts',
without the pane of celebrity,
the mirrors of circumstance,
without it – nothing
like you wanted?
We should have left you to atrophy
there, denying cheder,
choking on cellophane,
cigarettes and vinyl.
We felt we knew you
and weren't there for you
at the end.