Montage of my sons. IP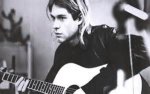 Sat, 09 May 2015
Quicksilver hands as sharp as eyes.
Your Trojan smiles flinty edged, your jawlines merge
with the fizz and pop of consonant and vowel.
American and Anglicised.
Whetted tremulous fears edge
the flat out landscape of your potential.
You're a shimmer haze off the asphalt
firing around the curvature of the earth.
Ears lassoed with honeyed strands
the eyes meet in the middle.
He claps above a birthday cake
as you draw notes on shards of paper.
You stumble with six biting strings;
he pounds away on plastic frets.
You crack a chord, both turn to me
his words resound from out your mouths.
Ice-lolly milk breath scatters dandelion clocks
A toddler chases dollar bills
You sit mesmerised by flickering phones
and I forget who I'm talking to.
You're like trying to hold on to a fireball;
chain a lightning bolt.
As your seat on a lunch box drumkit
strikes the feared chord of God in me.
I see in him through
voyeur Frances snapshots
Polaroids of our future;
you both prostrate on the blacktop,
me mired in the tarmac.