Embracing the Change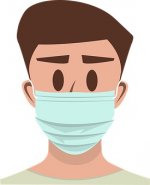 Sun, 26 Jul 2020
1 likes
After the recent crisis
a return to normality
appears to be
just a mere formality.
Economically alright,
I cannot really moan;
I've been furloughed
and was given a loan.
It is very important
to be in good health
as it's more valuable
than material wealth.
One normally aspire
to be very positive
but vis-a-vis the corona
it's better to be negative.
I am on the right side
of this epidemic blitz
but I haven't any dosh
for a nosh at the Ritz.
I would have difficulty
even for this task
as I'm told it's compulsory
to be wearing a mask.
Things are different
and ostensibly strange;
but all we can do
is to embrace the change.
© Luigi Pagano 2020