Selfies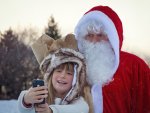 Mon, 12 Aug 2019
In the past, painters did self-portraits
on canvas, with palette and brush; 
it took ages and they did not rush.
But with no sales, they were in dire straits.
 
It is an old method that's now obsolete;
today we make use of a new craze
that swept the world in only a few days.
Art has moved from studio to street.
 
We can take a selfie with a celebrity,
a president. a prime minister, the Pope.
If you are filmed with a crook, you hope
that it won't affect your popularity.
 
I have refrained from such inanity
but it's always been a dream of mine
to be seen side by side with Einstein;
so I am not exempt from vanity.
© Luigi Pagano