Blue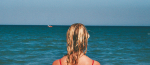 Mon, 26 Jan 2015
3 likes
I'm sliding backwards into memory
like a skydive in reverse
into the blue of
my mother's robes
a mosque's dome
powdered sulfur
the spray of light when you bash your head
or perhaps
something less obvious
my father's death, but I never talk about that
and finally, the deepest shade of blue
my alien lover.
Her skin was like an oily ocean
thanks to a small part in her ex-boyfriend's play.
In my shower she washed herself back to human.
The blue paint gored my tub,
there's still a bruise-shaped puddle
I can't scrub off.
Her eyelashes fluttered when she came through my door,
a quiet semaphore: "I've been looked at, I've been loved".
I never knew why, I mean, all she did was sit very still,
until Act III, when the protagonist stroked her cheek
beneath the light of a flickering moon box.
She loved the attention,
the lycanthropic gaze,
someone so afraid of being caught in an eye
felt "herself" on stage. Through windows and mirrors
that filled the seats, she stitched herself into a woman
people could touch.
It made her sad to be human again:
"My alien skin feels so smooth".
I reminded her she was only painting over flesh, not replacing it.
She waved her hand and told me to pass more shampoo.
My beautiful, mistaken muse.
Drowsy and tangled we fell asleep each night.
Pinned between my sheets
and war paint and sweat.
Eyelids sticky with sleep,
the taste in my mouth turned aniline
as I curled my body into a question mark
and she dreamt
of her stupid performance.
Some notes on her features:
Her nails were split-rib sharp
Her un-brushed, kersey hair
spat out clumps around my bedroom floor.
Russet lines on her thighs told me
she wasn't very brave.
Her limbs moved like bad hinges.
Her voice got hurricane-loud when she was sad
like a whale song
or the cry of an abandoned child
but
when we fought
she kept her mouth shut.
Apart from the scraping sound of skin on concrete
like the answer was back there,
on blood
on breezeblocks.
When my brain caught up with my dick
I grew a tough, blubbery heart-leather to keep her from falling in.
Flushing out the crawlspaces with acid
to stop that awful whistling sound that comes with
the ebb and flow
of disgusting love.
But how can you survive something you can't define?
What are you fighting?
My alien girlfriend thought all humans were sad.
I think stars are sad
and brick
and that patch of sky the city explodes into.
Her biggest fear was that she didn't live up to the hype of herself,
she thought the train of breath she left was somehow
more interesting
than the place it came from.
One night I painted myself blue
to see what she was made of:
blue skin, blue hair, blue bells, blue underwear
but I felt nothing,
I slipped back
panchromatic
boring
better.
Our last encounter went like this:
She tried to sink her fingers into my skin, to plant her roots
but I pushed her off.
The day's last breath blew through her hair,
we looked at each other across the room,
a stag seeing another stag.
We watched each other, and there was nothing there,
no story, nothing.
"You move, I move. Go."
I closed my eyes and that's the end, and that's the blue, and that is all I remember.