Hello all, a poem!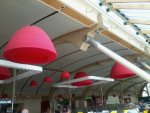 Sun, 30 Jul 2017
very rough, very much last night....    not edited.  be warned...
Effortless.
The struggle won.
The nation devided - talks;
on unity, records the facts 
in italics.  Here and here - 
.
the standards fly.
the flags of Norm.
Nay near Normal
. 
A mean of what should be - 
what could be  and yet 
there is a pause, and another
a whisker of a kittenish idea
that anything goes.  A liquidity 
in the brain gives, rises
like air, and trickles down.
I end up half here and here
and never there.  Not arrived.
on the tombstone.  Never got there!