Angel Light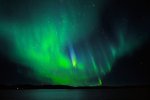 Tue, 23 May 2023
1 likes
When you close your eyes…do you see angels?
Angel Light
Glistening echoes of celestial beings,
shards of light shimmer - backlit skies
draped in nameless, listless dreams,
summoned by faith: arcane prayers.
Gossamer wings flutter, out of sight,
yet we hear their soothing whispers,
entreaties, promises to mend hearts,
esoteric guidance for existentialists.
White-tipped waves dance at dusk,
cliff-tops reach across forlorn shores,
ghosts of our past linger in dank dew,
souls caught in the glare of headlands.
Breaths freeze in deep, bleak winter,
snowfall skitters, monochrome drifts,
look up to see a technicolour Heaven,
shades swirl in enigmatic electric hue.
Perhaps our spans are spent seeking
answers heard only in confessionals,
maybe seraphs exist beyond Borealis
counting time through endless aeons.
Image free to use at: https://commons.wikimedia.org/wiki/File:Northern_Lights_02.jpg