Eleanor Cross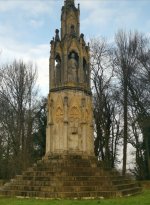 Tue, 05 Jan 2021
1 likes
Eleanor, highborn of Castile,
favoured daughter of Ferdinand,
beloved, revered Queen to
Albion's powerhouse: The Longshanks.
Noble monarch, woman of means,
passionate patron of literature,
well educated, fiercely independent,
cultural icon of her time.
Magnificent matriarch to sixteen
children from regal union.
Passed away into lore,
three wedded decades and more.
Of Sussex marble, Purbeck pure,
chiselled carvings etched in lime.
Pray for her eternal soul,
dear weary travellers in time.
Eleanor Cross, monuments twelve,
aligning her funeral path.
Cortege passage: Lincoln to Charing,
stone markers her journey sharing.
For two centuries and beyond,
Edwards's candles remained aflame,
at Royal Westminster Abbey,
blessed vigil to her name.
Footnotes:
The Eleanor Cross (image is my own) is half a mile from where I live in Northampton and is a source of local pride. It was at the centre of a recent ownership dispute between the County and Borough councils, neither wanting to foot the bill for much needed restoration costs. The Borough council eventually conceded and the work has been done at a cost of £95,000 to preserve this historical artefact that dates back to 1291. It is one of only three of the original twelve crosses that remain today.