Night Whispers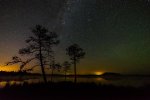 Tue, 02 Aug 2022
1 likes
Audio version at: https://soundcloud.com/user-62051685/night-whispers-mp3
Night Whispers
Clouds file across stoic skies,
constellations watch aeons pass,
time marked in metaphors
by rancorous, eternal gods.
Moonlit, midnight reflections
on shimmering, blue waters,
hollow echoes, sonorous sound,
ticking clocks in quiet crescendo.
Rain patters on glass panes,
we hold hands, remember,
so many sepia, still frames
that led us to this point.
Shades of light and dark,
hazy recollections of life,
ghosts of times gone by,
silent graveyards in brume.
Surreptitious, stolen whispers,
murmurs drifting on breezes,
memories etched in moments
until a titian sun rises again.
Image free to use via WikiCommons at https://commons.wikimedia.org/wiki/File:In_the_photo_there_is_one_Persei...