Pointless Boris (Part Two of two)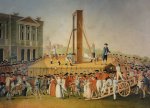 Thu, 21 Apr 2022
This is the ninth entry in the satirical series at https://www.abctales.com/collection/pandemic-tales-bojo-and-co
Part 1 at: https://www.abctales.com/story/marandina/pointless-boris-part-one-two
Pointless Boris (Part Two of two)
The blonde-haired man stretched and yawned. It had all been just another nightmare. He had had so many recently. Recent dreams had been filled with visions of birthday cakes, police fines and stray cans of lager. It was all so unsettling but he knew inside that he was an honourable man. Yes, honour and truth, that's what he was about.
He looked around at his surroundings. Formal portraits filled the walls and an ornate, dressing table with swirls of gold embellishing a mirror lent a realisation that he was in a State bedroom at the Palace of Versailles. He remembered now. He had been invited to the inauguration of the re-elected President of France following the recent elections. It had been a close run thing with Le Pen polling well but Emmanuel Macron had won in the end. Boris thought about how similar the two men were. Both debonair and handsome, both great orators. And both men much loved by their electorate. Yes, very similar indeed.
Having showered and shaved in an en-suite bathroom, the shaggy-haired politician wandered over to a rather grand, walk-in wardrobe and opened the door. His clothes were hanging up, ready for him to prepare for the day ahead. Crisp white shirt, sharply-pressed black trousers, shiny brogue shoes and a Saville Row blue suit all added up to a well-dressed Prime Minister. He winked at himself in the mirror on the dresser.
Before heading out, he shuffled across the Persian rug style carpet and over to a double casement window with brocade curtains. It looked out onto a courtyard. He edged closer. He could see a wooden scaffold with what looked like a guillotine centre stage. It was surrounded by a large crowd. More people were arriving. At the side of the insidious device, an old crone with black teeth was knitting and cackling. She was dressed in rags and had a smoking pipe on the ground beside her.
"Ah…um…I wonder what that's all about." The PM mouthed wordlessly. He shook his head gently and dust fell to the floor.
Breaking the reverie, a knock resounded on the bedroom door. A voice from the other side asked "Are you ready for breakfast, sir?" The accent was French and the words uttered in a Pigeon English. He wondered if it was Inspector Clouseau from the Pink Panther movies.
"Oui…yes…do come in." replied the blonde-haired man.
The door opened and a young man in grey uniform wearing a bell-boy hat pushed a serving trolley into the room. On it were silver trays including a tea service and covered dishes. At his side was an austere, powerful looking man. It was President Macron.
"Ah bon matin and a good morning to you, monsieur Johnson." Emmanuel Macron had boyish good looks with lustrous, black hair and sideburns. He looked nothing at all like Boris.
"So..um…you are joining me for breakfast, Emmanuel?" Enquired the head of the UK government.
"C'est vrai. Oui. There is food for two. Afterwards, I will give you are a guided tour of the palace." The word "palace" sounded like "pal-ass". Macron was an unpredictable politician, often given to anti-British rhetoric. This was often explained away by the constant need to showcase to a French public an historic intolerance of British arrogance. In private, most elected bureaucrats were invariably more conciliatory and polite.
The two men sat at a circular, wooden table in the corner of the room.
"Congratulations on your latest election victory." Boris oozed charm as he negotiated a mushroom with his fork.
"I really must ask you what the…erm…um…kerfuffle is outside. There seems to be a large contingent of people gathered around what looks just like….oh….a guillotine." The British PM looked across at his French counterpart. He was genuinely confused although this only differed from his usual state by adding the word genuinely.
"Ah oui. Yes, there is a ceremony today. It's a throwback to the days of the French Revolution. A man will be guillotined today but only in a pretend fashion. We are not savages in La Belle France." The genial Frenchmen spoke in reassuring tones, sweeping dust from his blue suit jacket with his fingers.
"Anybody we know then, Emmanuel?" The blonde-haired, portly man continued tucking into his full English breakfast.
"It is all symbolic, of course. But yes, we have a very special guest for the chop. Someone we think of as "L'Enfant Terrible." Macron raised his eyebrows as he revealed the news, gauging a reaction from the man opposite. Boris screwed his eyes in thought.
"That name sounds very familiar. Um…erm…yes, just can't place it." The newly, re-elected French Premiere looked relieved.
****
The crowd cheered and booed at the same time. Two men had wandered onto the scaffold. One was a slender man with dark hair, the other a blonde-haired man with a shuffling stride.  The day was brightly light by a sun already warming those below; its rays piercing and unkind to those out in for too long.
"I would like to show you how efficient this device is before the ceremony gets underway." This sounded like "thees" as the French President's excellent grasp of English still strayed into a Gallic version at times.
A large, muscular man wearing a black hood on his head strolled across to meet the two dignitaries. Wearing a sleeveless vest and butcher's apron, he was holding a carrot in his hand. Without saying a word, he carefully placed the orange, root vegetable in the wooden block that was carved into a curved shape to hold a man's head. Both of the politicians watched on as a switch was pressed and the lethal blade fell, slicing the carrot in two. The blonde-haired man's eyes watered as he winced.
"It's a good job that's just a carrot." Mumbled the British PM. "All looks…um…rather painful."
The French Premiere turned and stared at Boris.
"I should now reveal to you that we have had many files sent to us from our associate in Durham. He is known in Europe as "L'agent Dom. He/she has disclosed to myself and my associates at the European Union, much evidence of anti-European sentiment which climaxed in the process you call Brexit. For this (thees) I am afraid there is a forfeit."
The British PM looked back at Macron and then nervously at the guillotine. As he glanced back up, the man wearing the hood and a rubber apron took him roughly by the arm. The crowd roared its approval as someone shouted from the masses "You Eengleesh Pig dog." They had clearly been watching "Monty Python and the Holy Grail".
From the other side of the scaffolding, hidden from view, a short, balding man watched on. He leered at the scene unfolding. He had waited so long for this moment. No matter what sludge he threw in the direction of the PM, the sleaze was never enough to engulf the clown prince. He would not escape this time. No sirree.
A few feet away from the ex-mandarin, a microscopic cloud of virus swirled and pirouetted. It was too small for a naked eye to see. For those with the hearing ability of a domestic dog, you could have been able to detect the faintest of buzzing like bees. It too was following events, salivating at the sheer number of people present. A feast awaited. But first, what of the man who had labelled it an invisible mugger? And what of the demon in front of it with no heart? It watched and waited as it had done many millions of times around the globe.
Just then the crowd stopped and a silence ensued as gunshots could be heard. Everyone turned to see where the commotion was coming from. Two masked men wearing tricorne hats rode through the massed ranks of those gathered, people parting like the Red Sea allowing then to come through. They stopped in front of the scaffold and one of them (a very tall man who looked to be at least six foot six inches in height) held out his hand to the shaggy-haired man.
"Do jump onboard, PM" the man uttered in low, confident tones.
Boris ran for the horse and leapt through the air, both arms and legs flailing in the breeze. He nearly missed the horse completely but the tall rider reeled him in with one of his long limbs. With that, both of the interlopers raised their muskets in the air and fired a shot. Most in the crowd ducked instinctively. The horsemen rode off down the alleys and byways of Paris and out into the countryside.
They galloped for what seemed hours as tarmac and breezeblock gave way to trees and flowers. After a while, they finally pulled up in a deserted country land. The rescuers tied the horses to an old, gnarled oak tree and sat down on dewy grass. It was only now that they revealed themselves to the PM. They removed their eye-masks.
"Good Lord. It's Richard and Xander. Well…um….you both have my eternal thanks." The blonde-haired man beamed as he shook both of their hands.
"Oh, it's our pleasure, Prime Minister. We were sent by Michael Gove whose spies had uncovered a plot by the EU to assassinate a major political figure. Instead, it turned out to be you but we still came. I understand the boffins back at base spent many hours concocting a fiendishly clever plot. They eventually left their darkened room to announce the plan. It was based on the Carry On movie "Don't Lose Your Head. So here we are dressed as highway men and, yes, I am the mysterious "Black Fingernail" played by Sid James in the movie. Alexander Armstrong chuckled as he recounted the elaborate planning that had gone on.
"So what next? Do we meet more people and smuggle me across on a speedboat?" The PM was anxious to get back to Old Blighty.
"Something like that, sir. We have you and several other very special guests scheduled to appear on next week's charity edition of Pointless. Filming is on Tuesday" Osman's eyes twinkled at the prospect.
Boris thought about his recent nightmare, of being labelled incompetent and the incidents with Priti and Nicola. He looked at the two men and quietly lied "Ah….oh….apologies but I am attending a party that day."
Image free to use at https://upload.wikimedia.org/wikipedia/commons/4/43/Ex%C3%A9cution_de_Ma...
This is a work of fiction.
Names, characters, businesses, places, events, locales, and incidents
are either the products of the author's imagination or used in a
fictitious manner. Any resemblance to actual persons, living or dead, or actual events is purely coincidental
Thank you to anyone that's read any of these stories. I may put the puppets back in their box for a while.