Minefield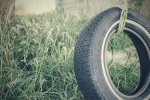 Thu, 19 Aug 2021
Too close to the playground. I told Pete we needed to stay by the garages, near our block of flats, but he never listened. We got spotted by the older boys who hung about by the swings.
Nathan was the leader. He stood on a tyre swing and pointed at us like a General and shouted, "Look at those two muppets."
Me and Pete were dressed in camouflaged army uniforms me mum bought from the Arndale, 2-for-1. Pete had a plastic Tommy gun and I had a Bren gun, with a folding tripod. I had a real ammo belt of spent cases over my shoulder that I'd pinched from an army surplus. Pete had smudged his face with rotten smelling camo paint.
Four of the boys sprinted towards us over the grass. I hoped they slipped on dog poo. Me and Pete pretended the poos were enemy mines. The grass in the playground was pretty much the estate's dog toilet. You could only play footie on there straight after the council men had come and mowed up all the turds.
Pete's mum didn't bother taking her dogs there. She let them go in the hallway and then would make him slop out the mess.
I wished my Bren gun was real. I was in a perfect spot. Lying on a dirt bank. I could have sprayed them with bullets, like a para on Goose Green. Only it was Pete who went and did the bad thing. He was in a funny mood that day. I reckon it was over his mum bringing home a different fella again from the Red Lion. He was always a bit off on Sundays.
So, he starts lobbing bricks and rubble at the lads.
"Grenade," he yelled.
"What you doing?" I said. "Are you mad?"
"Come on, the Argies are closing in."
He flicked a slate like a frisbee and it properly caught one of the lads, Derek. We would have only been in for a minor beating, but everything went up a gear the second that slate sliced open Derek's noggin.
"Call an ambulance," I heard one of them shout.
Me and Pete hopped over the fence and zig-zagged through the half-built, graffiti covered Community Hall. "You stupid idiot," I yelled, hearing my voice waver.
"I didn't mean it," he said and I realised that he was frightened too. He disappeared up the stairwell of a block of flats. I followed him. Feeling the lads behind us. I suddenly stopped running up the steps and, without telling Pete, I pulled myself over a balcony wall, where I knew there was a ledge that jutted out. I crouched down and heard Nathan and the other boy run by. I waited and then double-backed, hearing them swearing and shouting about what they'd do to us.
I kept running. I needed to cross one last road and then I could get indoors. I was breathing heavy and the uniform was wet with sweat. I saw Pete dash out of the stairwell of a block of flats. Nathan was right on his tail. Another lad, Charles, came out of an opposite stairwell and that was Pete completely buggered. His escape cut off. I dived onto oily tarmac and crawled under a car and watched Nathan throw a punch. The Tommy gun flew from Pete's hands and he fell onto his backside. Charles picked up the toy and smashed it over Pete's shoulders. I was afraid to make a sound. Not that they could hear me over Pete's crying. It wasn't his mum he called out for, it was his dad, who was long gone.
As they tore into Pete, I shuffled away and cut through the car park with the two burnt motors. I went up three flights of stairs and banged on me front door. Mum answered.  "What's happened to you?" she said. "Look at the state of that uniform. I only just bought it."  
I burst into tears.
"What you blubbing for?" she shouted.
I was sent to my room. Mum was going to decide if I was allowed tea. I wondered about Pete. I'd call him later. He was in big trouble as Derek's older brother was a total psycho. There was a mirror on the dresser and I tilted it to see myself, full length, in the uniform. I had this sense that I was too old to be dressing up as a soldier. I put the plastic gun under my bed and took off the camouflaged trousers and jacket. I held the ammo belt. I liked its weight and the brass casings, which had once had bullets in them.
From the bedroom window, I could see younger kids down below playing in the burnt motors. Pretending they could drive. I heard the siren of an ambulance. Derek had been scalped by that flying slate. Pete would be back indoors now. A beating didn't last that long. It just felt like it did at the time. He'd be home and I bet his mum didn't want to know about what happened. She'd be giving him jobs. Telling him to slop out the dog mess in the hallway.  
Shame me Bren gun's not real.
On the dirt bank in the playground, I could have set the tripod and fired rounds at Nathan, Charlie, Derek – the entire lot of them.  
I'd shoot up the whole estate.