A Visit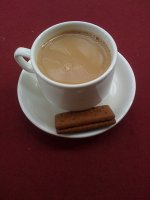 Sat, 15 Dec 2018
On Sundays, Gary's family would visit his Gran and Grandad who lived in a council estate on the other side of town
Once at Gran's, he would sit in his usual chair by the window and look down the hill towards the river, watching the cars on their way to and from town.
Usually the adults talked about stuff he wasn't interested in like how so-and -so from years ago was getting on these days, basically gossip about people he had heard of but had never met.
Gary's mind would wander into the realms of his imagination and he would be thinking of horror story scenarios he could scribble down in his notebook for future typing up on his typewriter, recently purchased at the Scouts jumble sale.He enjoyed writing and reading.  He had read a lot of the Pan Book of Horror series, and had recently read a book by an American writer about a girl who had been bullied at school and had wreaked revenge on her fellow pupils with her telekinetic powers. He hadn't understood it fully, but it was scary and the sort of thing he hoped to write by the time he was about 30.
His master plan was to set all his stories in Aberdeen and base the characters on his family and friends. He could imagine the career teacher's face when he told her he wanted to be a writer.
It would be a sight to see!
The school he attended seemed to be geared towards a future population of mathematicians and athletes, he was neither, but had, he was told, shown considerable promise in languages.
He was jolted back into the real world when Gran proffered a cup of tea.
Oh, aye, Thanks, Gran.
He accepted the dark strong brew and stuffed an aged Jaffa cake into his mouth.
Gran was in full moaning mode; she was having a go at Grandad and talking about him as if he were invisible.  She had her captive audience, when she was holding court like this.
'He jist sits in that chair behind the paper a' day and disna' dae onything!'
He had been retired for a few years now, and was getting on for 75, what was he supposed to do?
Gary often sided with his Grandad: he had worked hard all his life, in the shipyards, labouring for the council in all weathers, driving buses, you name it he had done it. He deserved the rest.
Mum and Dad assured Gary that Gran and Grandad loved each other in their own way, whatever that meant.
Gary had never been in love yet, what did he know?
Grandad was small and going bald. He was still relatively fit, for his age, still tended to his garden, which I suppose, was a form of escape from Gran's constant chatter.
One day, he had fallen in the garden and had found himself unable to get back up.
He lay outside until a neighbour raised the alarm and helped him up into the house.
Gran hadn't even noticed he was missing!
Most of the time, Grandad read the newspaper which he seemed to hide behind, giving adequate response to Gran's comments where necessity dictated. He wore a hearing aid, which he kept switched off most of the time and often claimed that it wasn't working.
Gran was skinny and had white hair which had a yellowish streak at the front evidently caused by her smoking. The once white walls of her front room were also stained this yellowish shade with nicotine. Gary didn't think she ate much; she seemed to live on cups of tea, occasionally with a small capful of whisky in it, for 'medicinal purposes' as she put it.
Gary gazed out the window again and watched the cars and buses.
It was getting dark.
It was great in the winter to watch the sun going down and the city darken gradually from the vantage point of Gran's upstairs window.
You could see the orange haloes round the street lamps coming on and illuminating the way into town.
When it was a clear day his cousin claimed that you could see all the way to Peterhead from Gran's window.
The harbour and beach were easy to see, but Gary had never seen as far as Peterhead, not even with the assistance of Dad's binoculars.
It was almost 5'o clock and the rain was pelting down.
Soon Gary's uncle would arrive for what Dad called a 'flying visit'. This, he soon came to know was basically to come in say 'hello', have a cup of tea, make some excuse and then go home.
His uncle always seemed to be in a hurry to go somewhere else when visiting Gran and Grandad.
Whether he just didn't like visiting them, he didn't know.
 Gary never did find out the answer to that one.