The Straw Man (part 2/2)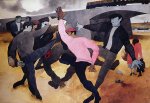 Sat, 01 Aug 2015
The sun was shining through a gap in the curtains as Paul awoke. Usually he still felt a little sleepy for a minute or two, but today he felt bright and ready to get straight out of bed. It took him a minute to get dressed, go to the bathroom and wash his hands and face. He remembered the dream clearly, and told himself that what Daddy and his friends had done wrong to the straw man he had been able to put right. Then he remembered it was only a dream, and felt a little sad. As he left the bathroom Mummy was coming out of the bedroom.
"Morning darling," she said. "Have you been downstairs yet?"
"No."
"Daddy's not been to bed. Looks like he didn't make it home, or at least up the stairs."
Paul stopped for a moment. He wondered if he should tell Mummy about the dream, but she might think he was being silly. So he just held her hand as they went down the stairs and decided he wanted sugar puffs for breakfast. He went into the kitchen, Mummy went into the living room, and he heard her cry out.
"What the hell! How did you get like that?"
There was a fussing and groaning from the living room. For a little while Paul stood still, then decided he should take a look at what had made Mummy shout. He went into the living room and saw Daddy lying on the sofa while Mummy kneeled beside him with a hand holding up the back of his head. Daddy had cuts and bruises all over his face and a big splodge of dried blood between his nose and lip.
"What happened?" Mummy asked.
"I don't know," Daddy said. "All I remember is leaving the pub."
"What do you mean you don't know? There's blood in your hair. And look at your face. Somebody's given you a beating. You must remember what happened."
"Not a thing. Maybe I blacked out."
"Blacked out?"
"I'd had a few. No, I'd had a lot."
"You're always having a lot, and you've never blacked out before. You got into a fight."
"Well if I did I don't remember a thing about it."
Mummy slid her hand down to Daddy's back, placed the other around his waist and tried to pull him up. He made that noise.
"Oooaargh!"
It was a lot louder than the straw man had made it.
"If you can't remember how you got like this you knocked back a lot more than a lot," Mummy said. "And I bet you gave someone a reason to take advantage."
"Oooaargh!"
Paul didn't quite know what Mummy was saying, but he did know that she was annoyed. Usually when she was annoyed Daddy got angry with her and she cried, but he could tell that Daddy was in no shape to get angry. Instead he just touched his face.
"Ow! I'm cut!"
"You're cut bad! It looks like it's been hit by a shovel!"
Daddy's eyes opened wider. For just a moment he seemed scared at the thought of something. Then he touched Mummy's hand and spoke softly, begging a little.
"Please, ice cubes."
"You need to go to the hospital.
"Maybe, but first some ice cubes."
Mummy stood up, looked down on Daddy and let him see she was annoyed. Really, really annoyed.
"Please, just some ice cubes."
For a moment she stood still. Paul could see that she was making a point of being really annoyed.
"Maybe you'll learn," she said.
"Sorry."
Mummy still looked annoyed, but Paul noticed she was also surprised. He had never heard Daddy say sorry to her before. He was pleased.
"Ice cubes."
"Yes please."
Mummy turned towards the door and touched Paul on the shoulder.
"Come on darling, you don't want to see this."
Paul jerked his shoulder away.
"No," he said. "I'll stay with Daddy."
Mummy breathed in hard, took another look at Daddy, then left the room. Paul stared at Daddy as he slid back on the sofa, touched carefully at his face and made the noise again. Then Paul noticed something sticking out of the lace on one of Daddy's boots. He went closer, placed his fingers on the boot, and pulled out a straw.
"What are you doing?" Daddy asked.
"Found this," said Paul. He held up the straw, moved towards Daddy and placed it close to his face.
"No!" Daddy turned his face away and held up a hand.
"It's only a straw Daddy."
Paul moved around and poked the straw at Daddy's face. Daddy threw up both of his hands to keep it away.
"Don't your remember anything Daddy?"
"No I don't Paul. I really don't."
Paul raised the straw over Daddy's hands and touched his head.
"No Paul! Please!"
Paul could see Daddy was frightened. It made him smile.
(Well something really weird is going on in that Edward Burra painting)
More at www.marksaywriter.com