My New Nemesis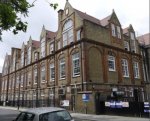 Mon, 22 Feb 2021
My darling mum would wake on Monday mornings and make a frantic effort to clear up the place before dragging us from our slumbers.  Frazzled with overwork yet smart in her only two-piece suit, heeled shoes and red lipstick, she would hurry us along the pavement, little sis in the pushchair and me in tow.  Down into the dirty basement to the childminder who looked after a horde of runny-nosed little ones.  There was no option for her or my mum; they were doing their best under the circumstances and, I believe, had it far harder than any of the men.  Next would come Jana's screams as she tightened her grip on mum's hair fearing the abandonment to follow.  Mum would lower her down into the playpen still attached to the little fingers.  She would try to untangle the clutching child as gently as possible but at the same time hurriedly. I would look back at my sister's state of misery and feel deep sympathy.  It was cruel, very cruel!  I knew it! Then, up the steps and a quick escape into the Portobello market.  A race, now, to the gates of my big, foreboding, Victorian school.  A hasty lipstick kiss, a whiff of Devon Violets perfume and Mum was gone.  I would feel such heartbreak and yearning for her that, invariably, I would cry.  It was too early really to be in the playground being a little past eight, but mum had to be behind her desk by nine in the city office.  There was no other way.  Even though I understood this I found it hard to bear.  Now I had to amble about until the first kids trickled in.  My pain reached great heights at these times as it was a sort of meeting with my foes not my friends.  Still, with the smell of mum's Devon violets in my hair I would catch my breath in gasping sobs. Tired and hungry and absolutely longing for babushka and a poppy seed bun, some Krupicová kaše served perhaps with a little bowl of strawberries and a glass of warm, frothy goats milk; I had instead a ghastly taste of Government provided cod liver oil, mixed with milk spooned out every day by mum who was following government guidelines on childhood health.  But I had prepared an antidote.  Going into the roofless playground toilets I would flush and capture some of the 'clean water' in one of mum's empty Devon violets bottles.  I found that the violet tasting lavatory water would help with the cod liver oil taste and I felt closer to mum clutching it.  A habit I continued secretly during my whole time at that London school.  It was small wonder that I was continually nursing a boil somewhere on my bottom.
As the playground filled with its unruly occupants, I shuddered in the corner.  What a tribe they looked.  Poor, for the most part dirty, buttonless coats tied in the middle with string sometimes; matted tank tops on the boys worn with ghastly knee length, rough grey trousers and frayed cardigans teamed with ragged frocks on the girls.  Poorly chopped pudding basin haircuts were everywhere together with a sea of sloppy shoes and wool socks gathered around the ankles.  Waxy ears, runny noses and for many, a head full of lice.  Worse still, the moment they spotted me, the chant of Nazi, Nazi, Nazi! would rise into the air.  I knew that word alright but the rest of what they were saying I didn't understand.  After all I spoke Czech totally.  To be sure mum sometimes spoke in English to me but she would speak in Czech with dad at home.  She had learnt it whilst living in Touškov.  She had to.  Not many people in Mesto Touškov spoke English.  Thus, I was cut adrift surrounded by jabbering kids and barked instructions from teachers.  I didn't have the faintest idea of what, where or when.
To make matters worse I seemed to be the only "bloody foreigner" available to torment.  Thus, already punished, I would finally enter the classroom, the place of supposed happy learning and eagerness.  The room rose like a Greek amphitheatre in tiers, the desks bolted to the floors. A place where the children were like the crowd and the teacher the gladiator down below.  I would find myself a corner on the highest level to hide but one glance from the teacher, from her vantage point at the bottom of this raised semi-circle, and I would be ordered to the front row.  At the bottom of these tiers, on ground level, was her desk alongside a stove with a huge guard around it.  This stove would often be heaped with damp coats, hats and mittens on wet days, giving off a sickly smell of burnt woolen apparel.  Register would be called with a much-dreaded hesitation at my name.  The teacher would stop the roll call and my heart would drop as she began a torturous attempt to unravel the mystique of its ciphers.  Novti, Navti, Noviltoni.  The other kids loved this bit and would shriek with laughter until exasperated she would cast her eyes around for the culprit and call out "Stand up please and DO tell us your name. Shaking I would say "Novotný, Mařenka Novotný."  The class would titter and offer up "She's a Nazi, Miss".  All eyes on me, I would hang my head in abject shame and stifle the ever-ready tears. Then the assembly; filing into a great hall with damp waxed floors and the aroma of grey meat already on the stove in preparation for dinner.  School dinners.  They had a nerve calling them that.  Oh, my goodness, what a horror of horrors.  Sloppy greens, gristly meat, mashed potatoes with purple lumps of rottenness which had failed to be cut out.  More tears from me and a sharp prod between the shoulder blades and "Eat up you cannot leave the table until you do".  Oh, it was a long way from Touškov. A very long way from a schnitzel served with a sweet cucumber salad.
A secret sip from my perfume bottle and a hankie full of the ghastly contents of the school dinner, would be hidden in my pocket. And the puddings?  What on earth were they? Sponges made with powdered eggs and swimming in a revolting mess known as custard.  These I could usually palm off to the kid next to me, but, it was torment!  Oh, for a bowl of chicken soup made from the carcass and bursting with flavour.  Glistening with buttery noodles and served with a hunk of dark bread thick with butter.  Oh, and some little fruit dumplings, preferably with an apricot inside, and topped with clarified butter, icing sugar and cinnamon.  These daydreams kept me going through these nightmare times. 
After a day of complete bewilderment, the home bell would ring, and a thunderous clutter would empty the classroom for the greater part.  The remaining kids, of which I was one, would be marched down to a basement room replete with a row of camp beds.  Here we were made to take off our shoes and lay down.  A nurse, complete with a frighteningly large coif, nun-like headdress, would sit and knit.  Now and again she would walk between these camp beds and slap the thumb suckers and hair twiddlers. Although not a thumb sucker myself, I had a habit of sucking the sleeve of my cardigan.  Somehow a mouthful of woolly fragments coupled with a smack of Sunlight soap, comforted me.  I got my usual slap. After this short nap we were dosed with cod liver oil and a spoonful of thick concentrate orange juice, courtesy of the government who were obviously well aware of the severe depletion of vitamins and minerals us post-war kids were suffering.  Shortages, generally, were the cause of this but it was really driven by poverty.  A bigger horror of horrors was next. Back into the dining hall and fishpaste (always fishpaste) and cress sandwiches and a cup of tea poured straight from a massive enamel kettle and already mixed with sugar and milk.  Back in the basement, with camp beds cleared, I would wait for my mum.  The nurse would make a big demonstration of packing away the well-worn toys, pulling me off the rocking horse far too early and dragging it to the corner.  No matter that mum hadn't arrived yet.  She would huff and puff at this almighty task and finally, sighing, she would stand with crossed arms, periodically unfolding them only to look at her watch, and then sigh some more.  I was acutely aware that mum was always the last one and late.  She could not help it, of course, having to rush across London to collect me.  She would burst into the room in a waft of cold air, apologizing profusely and grabbing my hand, but not before the nun nurse had reiterated the time table to her. This staying on at school for "tea" was a government-inspired scheme to help and encourage mothers to work full day.  We kids were told it was a privilege to be able to remain at school until six pm and partake of a tea.  Even then, I knew it was nothing but sheer cruelty and an absolute con.
Calmer now, we would walk up Portobello Road gathering vegetables from the gutter.  The stalls, now packed away, would leave behind their unwanted produce; vegetables that would not live happily until the morrow.  Parsnips, carrots, potatoes, greens, squashed tomatoes.  I would dart here and there picking up anything reasonable.  Other kids would be doing the same.  Mum would get some old vegetable crate left behind and we would fill it.  I was particularly happy if I found some apples suggesting mum could perhaps knock up some little fruit dumplings in her apology of a kitchen.  Tired out and after a gruelling day, poor mum was no doubt dreaming of a fag and a cup of tea with her feet up.  Nothing more.  Definitely not the making of some European dessert, the melting of butter and the sifting of icing sugar and cinnamon.  Nevertheless, a meal of sorts would be concocted.  A thick vegetable soup with a hunk of bread.  It was good all things considered and polished off with a slice of apple, it sufficed.  Bedtime was a huge mug of milk courtesy of the dairy where dad worked and the heaven of falling asleep beneath a goose down quilt.  Down, down, down under the quilt and into sweet oblivion.
Thus was the grinding routine of our everyday day life in post-war Britain.  Day in and day out.  Some respite would come for me at weekends in the form of an afternoon on the bomb site in Cambridge Gardens opposite. Once posh, Cambridge Gardens, with three-storey houses and a mews of coach houses was now shabbily poor and rented out for the most part as rooms; it was where we had first slept on the cobblestones.  Steps led up to the front doors of these now tired main houses with the pock-marked collonaded porches.  Inside, steep stairs broke on each landing to a room on the left and one on the right. Often these doors would be brutally wide open displaying a living scene inside; furnishings from an age long gone; cooking smells I'd never smelt; old ladies in strange frocks that almost touched the ground; old men sitting next to a radio; families crammed in and a smell of baby urine.  One of these grand old houses had taken a direct hit from the Luftwaffe and was reduced to rubble.  Here we made tunnels into the cellar, climbed planks over hills of stone and gazed up at the one remaining wall complete with fireplaces, one above the other, and displaying pretty floral wallpapers from a previous bedroom.  Sometimes even a picture would remain hanging askew and open to the elements.  We would try and construct long poles to get these down.  It would be an afternoon's work piling rubble upon rubble until a sort of precarious pyramid would take shape.  On this would climb the bravest boy and with an extra-long pole, he would attempt to lift one of these pictures off as some sort of prize.  When this was achieved it was a joyous event.  We felt as though we had saved something from the German demolition.  Hours were spent on this particular bombsite and we were never checked on or castigated in any way even though some of those kids were very little.
A small boy, still a toddler really, had his dummy tied to a string and attached with a big safety pin on his coat. He just followed us and tried to throw a stone here and there.  To whom he belonged nobody knew or bothered to ask.  We watched out for him instinctively though and kept him safe.