A Beech poem for Di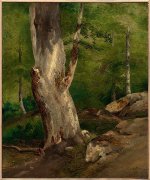 Sun, 28 Nov 2021
2 likes
Poem 2 for Day 2 of National Tree Week. A poem based around Joseph Tubb's Poem Tree - he carved his poem into the bark. It sounds romantic though a Beech's cambium is close to the surface of the bark and so cutting into the bark could be damaging (though I believe that's true of most trees). You can read about Joseph Tubb here and see a picture of part of the poem: https://en.m.wikipedia.org/wiki/The_Poem_Tree
Do not make a poem of a Beech,
Joseph Tubb, no love should be carved
into bark - or this harbour for the dead
in ghost orchids, injured, its shade
over roots that snake outward,
may seek you at last. Instead, 
rest upon a leaf bed, admire
its green sunlight and mast, 
take a twig for your pocket, a wish.
Watch a wood become a herd,
hold the crook of a bōc, 
where little spiders swing through
them on threads in the tall and electric - 
no, you do not need to make a poem
of a Beech, Joseph Tubb. 
 
(bōc - and Old English word for a Beech, perhaps connected to 'book', in an old tree alphabet the Beech is shown as the symbol of a crook - the shepherd. Folklore that putting a little Beechwood in your pocket is lucky. History - people sometimes used beech leaves for bedding. Electric - reference to the electrical field of trees - small spiders use this like static to swing through trees on threads - am explaining all my references for Di because I wrote it for her - happy to take any other requests too!)