Herring Gull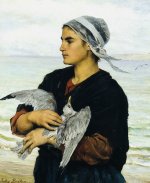 Sat, 30 Jan 2021
I hear how a colony calls,
cries that pull threads
of understanding, to warn 
and direct; the world spoken
in blue dreams, a dialect
of whistles over waves 
that break their blood magic,
beaked sharp across wash,
the spit of salt in slipstreams
of sky and ocean: the shimmered
courses of other nations. 
I will still wish, but eagle 
the black mountains of tips,
fish discards, and thunder
dark shores for worms. 
 
I will search for the sea
from a rooftop, a silver
wing to seize the wind, and
for another - the yellow song
of a blackbird, the magpie
bark of black and white: 
a distant recognition. 
To want, to covet, 
where word and gesture
mean little voiced alone,
where I sense the fray 
of identity against my need
to belong to anything, any
thing, when I do not know
why I am so hard to love. 
 
Image is from here: https://commons.m.wikimedia.org/wiki/File:Jules_Breton_-_The_Wounded_Sea_Gull.jpg
And on Twitter also: https://commons.m.wikimedia.org/wiki/File:Ferdinand_von_Wright_-_European_Herring_Gull_-_A_II_1022-22_-_Finnish_National_Gallery.jpg