New World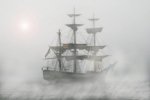 Sun, 22 Sep 2019
2 likes
I have traced this route with astrolabe
and compass, followed these suggested paths
of constellations, and under sextant
set to North Star, I smooth out the paper of maps
stained by wind and salt, brined hair lashed
to my wide-eyed face from heavier storms
as I sight new land on the horizon.
And that first rush of fear and jubilation
has been sobering:
that they feel much the same in biology.
The twist and yank of stomach - 
should I turn back?
Perhaps these shores weren't meant for me.
I, who have fought an octopus,
and lost, outnumbered by eight arms
and its slippery alienation.
I, who have shot down the albatross
who stole shivering fishes from my nets.
I, who cut my own anchor loose, 
throwing caution to self-destruction.
This new weather to acclimatise to,
I take baby steps,
dazzled, the greens and blues striking
in their shifted shades; the stars are closer,
the unusual dress and practices of the natives
who speak and move in love and safety,
their waters are calm and free,
my stilted language, my strange words;
I do not know if they will be able to understand me.