Triptych 1: Mass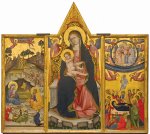 Tue, 05 Jan 2016
Mother in a mantilla
rubs her spit dampened
handkerchief across a child's face,
not clean enough for God,
who lives inside and judges us all.
She unpurses lips to reveal
a tight mouth drawn on
with matt lipstick,
fit to speak the strange words
from another time.
Her bag snaps shut
and with a brisk neat clip of feet
she pulls a dreaming girl
through the yawning mouth
of worship.
Sunday best behaviour means
sitting and standing like the others,
linger with the kneeling,
head against wood to smell
a trace of weekday prayers.
The priest has the nicest clothes
knows all the words
sings them like a lullaby and
bows his head as boys ring bells
and waft sweet smoke to beckon sleep.
Stories are droned in an ancient language
so children make up their own to speed up time
from sweet-faced pictures in high windows
but not from the people who face the front,
it's rude to stare at them.
Ritual ordeal affects a change -
out on the pavement
masks drop
smiles 
exchanged for gossip
the crowd thins -
threads toward
a steamy drift
of roasting flesh
and cabbage.