A Festival in the Woods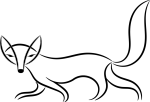 Sun, 20 Jan 2019
Steel armored boots hammered against the forest floor, shattering what had moments before been a peaceful morning. Aaron imagined it had been at least- he hadn't had a chance to sit and rest since the previous night, and peace and quiet was starting to feel like a distant memory. His plan, or the closest thing he had had to a plan, was to go into the one place where he'd been sure that the soldiers wouldn't follow- the Dark Woods, the massive trees that loomed over his village like an ocean wave about to fall.  His village eked out their living in the far less bounteous grasslands that bordered it. No-one went in, though there could have been enormous profit from the rare wood and animals rumored to be found there. Everyone was more concerned with angering the unnamed dangers lurking inside.
    The soldiers who were chasing him hadn't been worried about such things, it seemed. Here in the forest the air seemed thick and moist, and strange sounds could be heard. Distantly he thought he could see lights among the trees, reminding him of some of the chilling legends that he had heard. Aaron felt like he was intruding… and the forest knew it.
That didn't matter at the moment. Threat of immediate violent death by sword and spear had a way of removing more abstract threats from mind. Trees rose up tall on every side as he ran, their tops invisible above the branches.     Aaron tried to move faster, his legs and side burning. He couldn't keep going much longer. Somehow the soldiers were still going steady. He could hear  their armor and weapons clanking as they ran.
Aaron stumbled, his ankle twisting painfully. He stifled a cry of pain and tried to get back up, only to stumble again and fall into a cluster of ferns as soon as he tried to put weight onto the injured ankle. He wriggled his way deeper into the ferns, hoping desperately that it would be enough to conceal him. His heart pounded. The soldiers were getting close!
A breath of warm air brushed over him. He turned, startled, to find himself nearly touching noses with a fox. He froze, knowing that it was too late for him to get up and run. Rather than attacking, or even fleeing, the fox cocked its head. It seemed more curious than hostile. "Sorry," he whispered to it. "I'll leave soon, I promise. I'm just trying to hide." It watched him with bright amber eyes, it's fur a cheerful shade of orange.
He went quiet as boots thumped nearby.The plants didn't cover him very well-  Aaron curled himself more tightly beneath the ferns, praying to every god he had ever heard of that they would pass by. A furry nose brushed against the back of his neck- the fox was still there. Couldn't it hear the soldiers too? He shut his eyes tightly.
There must have been ants underneath the fern as well, judging from the fierce itching that began to cover his skin. The boots got closer.
The fox nudged him again. Reluctantly he opened his eyes. He blinked, looking at the ferns that now neatly covered him. Those hadn't been that big a moment ago, had they? He turned, and realized that the fox had also somehow grown- it was now large enough to look him right in the eye!
Concerns about the ferns, and even about the approaching boots, were forgotten as he noticed an odd dark blotch that suddenly occupied his lower field of vision. His eyes crossed as he tried to see what it was. If he didn't know better, he'd say it looked like a-
The ferns were swept aside, a soldier towering above like one of the trees themselves. Aaron cowered. How had they gotten so big?!
"Anything?" shouted a voice.
"Just a couple of foxes, sir." the soldier shouted back.
"Leave them be and keep moving then!"
With that, the soldier dropped the ferns back down and continued his search.
Aaron stared after him with jaw hanging open. What...had just happened?
"Well, that was closer than I intended," a woman's voice said. Aaron turned. "Hmm, you turned out nicely though," the fox purred. "I might just keep you for myself."
"Huh?" Aaron said, then raised a hand to point at her. "You can ta-AAAAH!" he shouted as he caught sight of what had moments ago been his hand. "Wha- I have a- "
"A very handsome tail," she finished, giving him a sniff. "And some perfectly formed whiskers," she continued, "And a lovely coat. Hmmm, you should be a fox more often!"
She flicked her tail under his chin, and his ears felt warm all of the sudden.
"But I'm curious- why were they after you in the first place?"
"Uh, they, I-"
"Let me guess- some noble getting too full of himself? Maybe a wizard who doesn't know his history as well as he should?"
"...The first one."
"Maybe, maybe not, judging from the stink of poorly cast magic that those men were trailing. It'll take quite a while to remove that stench. You're probably dealing with a wizard- who thinks he's being subtle by letting someone else run things."
"Okay?"
"Boring, I know. You, on the other hand seem like you could be fun."
Aaron wasn't sure he liked what she was implying. "I need to get back," he said.
"Ah, that can wait. Today is a Festival day, and you just happen to be dressed for the occasion now. Come on!"
When Aaron still hesitated, she smiled. "Come on. It's not just any human that is allowed into a Festival of Spirits."
Aaron felt an odd sensation, and realized that his fur had stood on end. "A… one of THOSE festivals?"
"What other kind of festival is there?" The vixen said brightly. Aaron tried to dig in his heels, so to speak, and the vixen smirked at him, "Nothing bad will happen to you while you're with me, I promise.
Despite all of Aarons better judgement, follow he did, through small tunnels in the foliage that seemed to move around them even as they walked, their surroundings changing with each eyeblink rather than gradually as they should. Until they were somewhere else entirely, and Aaron was no longer running on all fours, and he was holding the hand of a woman who smiled at him with scarlet lips and laughed at him with her brilliant green eyes. She wore a robe of brilliant red that gleamed like the surface of a pond, a pair of orange fox ears peeking out from her shiny black hair. A tail of the same color could be seen flicking out from under her robe if he looked closely.
"See? Not so bad," she purred, tracing a fingertip across his chest. Aaron felt his face warm, only now noticing that he was suddenly wearing a robe much like hers, though colored a dark shade of gray. His hand shot to the side of his head and found nothing but smooth skin, then felt higher and sure enough found a pair of furry triangles that twitched beneath his fingers. "Hmm," she said approvingly. "Not as cute as you were as a fox, but adequate for now."
She hooked her arm around his in what he recognized as the proper way to escort a lady for a formal occasion. He'd seen a merchant do it once. "Come on then," she smiled. "We wouldn't want to be late."
They were still standing in the brush-tunnel, which had somehow remained the same height above their heads despite their suddenly larger size, and Aaron unthinkingly began to walk with her, flinching as something moved at the back of his robe. "This is so strange-" he muttered.
"We're not even getting started!" she laughed. They stepped through a thin veil of hanging leaves, and into a scene from beyond a dream.
Perhaps hours before there would have been nothing but a meadow filled with knee high grass surrounded by tall trees. Now it was a city, with buildings made of woven grass, of dandelion fluff, of bark and dew and spiderwebs. Among the huts and houses, the booths and pavilions, animals walked alongside creatures that Aaron could not name. The woman on his arm was greeting them, waving, like any noblewoman entering a party where she was the prettiest and most important. Except instead of nobility there were men made of wood, and clouds of flowers shaped like women, and wolves that spoke in cultured voices, and a dozen things that he could not even hope to describe.
Aaron woke up with the sun in his eyes, birds chirping nearby. He sat up and found himself lying on the grass of an empty meadow. He was wearing his ragged old clothing again- the fine robe was gone, as were the revelers and the structures. His ears were back where he was accustomed to, on the sides of his head. Right where they belonged.
He must have fallen asleep on a walk. He stood and began the long walk back to his shack. He should have felt relieved that he had not actually fallen afoul of the Dukes guards, that he had not actually met a talking fox. Instead he felt… heartsick.
Aaron passed the fields, the workers not even looking up as they passed. The summer would soon be over, and with the crops doing as poorly as they were this year, there was constant worry that the village would starve. They had a great deal of food stored for just such an emergency, but the Duke had seized those stores in the name of ensuring that the 'less fortunate' would be well looked after. If only the Duke would be so careful in seeing to the needs of those he governed.
Aaron was a blacksmith. No smoke emerged from the chimney as he walked up. Inside the forge was cold, his tools dusty. He frowned. He had only been gone a few hours- why was everything so filthy?
He shrugged and began to re-light the forge. Soon he was joylessly pounding on what would become a scythe. He knew how to make a fine blade, one that would have made any soldier, even a nobleman, happy with its edge. But he could not sell fine blades- no one could afford them, and farmers had little use for weapons. So he made simple, cheap iron tools.
As he worked he thought of the fox, of the light in her eyes, the happiness in her voice. He thought of the woman with the same eyes, the same voice.
And wondered.