10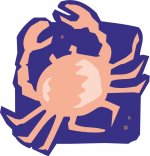 Fri, 10 Dec 2021
2 likes
Two figures represent 10.
The crab that walks
sideways seems to have 10 legs
5 on each side, and so
belong to the Decapod group of animals
(deca is from the Greek language for 10)
but their front 2 'legs' are really claws.
God gave us 10 big laws
to show us the meaning of love.
No,10 Downing Street in London
is where the Prime Minister has his home
above his offices
9
9 is the last of the 'simple' numbers!
We used to say that there were 9 planets
in our solar system,
but now, as he's so small,
they don't count Pluto
(say he's just one of the little dwarf planets),
so that there are
only 8 in all
(take one off 9 leaves 8!)
We ring 9, then 9 again, and 9 once more
on a  phone if there is a
serious emergency
to fetch Police, Ambulance or Fire Engine
with urgency.
3 blue smarties, 3 red,
and 3 yellow - makes 9!
8
8 legs on a spider
– 4 on each side
(4 and 4 makes 8);
8 tentacles on an octopus
(like arms)
An octagon is a flat shape
with 8 straight sides
'octo' comes from the Latin and Greek language words  for 8.
October isn't the 8th month of the year now,
but in the old Roman calendar
the year started in March,
and so it was.
7
7 days in every week –
the first day is Sunday,
then five school days,
followed by Saturday:
5 and 2 makes 7.
There are 7 colours in the rainbow:
red orange, yellow green blue indigo and violet;
7 white keys in the musical scale.:
C D E F G A B
or do, re, me fa, soh, lah, te.
6
6 sides (including top and bottom)
to cubes and bricks.
And every insect has 6
legs,
Collect 3 pegs and 3 pegs,
or 1 with 5,
or 4 with 2
to get 6 pegs in three different ways,
and the world was made in
6 creation days.
5
5 days for school –
Monday, Tuesday, Wednesday,
and then Thursday, Friday;
5 fingers on each hand
(though one is called a thumb)
5 petals on a buttercup
3 sweets with another 2
makes 5 sweets altogether.
4
4 sides to a square,
4 wheels on a car,
4 legs on a chair:
2 books, and 2 more
makes 4.
3
3 leaflets on a clover leaf,
a tricycle has 3 wheels –
1, 2, 3
and every day there's 3 main meals -
breakfast, lunch and dinner or tea.
2
2 hands to play
2 feet to take you on your way
2 eyes to watch
your feet don't trip or slip or stray.
1
One mouth to guard,
one tongue to keep in check
as I talk;
one nose
that goes
in front
as I walk.