Contrast focussing thought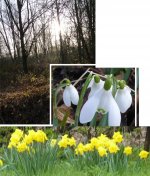 Thu, 18 Mar 2021
1 likes
If we hadn't sat though winter drear
would the snowdrops rouse such cheer?
Would the blaze of daffodils ignite
our hearts, rejoicing in increasing warmth and light?
    If we hadn't known frustration, fears
    we'd not experience as peace reappears,
    the special joy, appreciation of its taste
    and treasure up the days
    of freedom, health, and turn our gaze
    to things of lasting worth,
    whose foretaste's known on earth.