The exact time for dozing!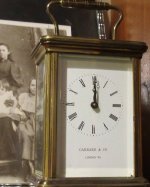 Wed, 22 Dec 2021
3 likes
[This is a freshened up old one]
The clock was slightly slow.
No longer would it go
the speed to keep its face correct,
the mechanism worn,
its cogs catch as they turn,
inaccurate each time he checked.
The owner loved time absolute.
He bought a clock that could compute,
and kept in touch by radio wave
with clock atomic – which should shave
a millisecond here and there,
and he would know exactly where
he was within each hour..
So happy then to go his way,
and wander vaguely through his day,
surprised at how the hours fly,
as dozing, reading, time drifts by.
[IP: clocks]