The lesser light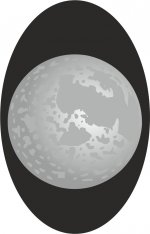 Fri, 26 Nov 2021
1 likes
What a wonderful moon  we have:
silvery glow – we watch it grow
and shrink, rise and glide,
and slowly sink
calm for lovers
and travellers' guide
in its regular nightly
mathematically governed
ride.
Who could devise
such a wonderful size
just right
– the 'deputy' of the night
to reflect sun's light
and occasionally eclipse it
so we value the sight,
and its 'pull' just enough
to shake up the seas
like an ocean breeze
to constantly ebb and flow
tides high and low
daily thresh
sea life refresh.
Science can't make sense
of how it's as it is:
    no collision
    no explosion
    or condensation
    or attraction
    can explain
but
    benevolent creation
    can.
[IP: eclipse]