The mask melting at 98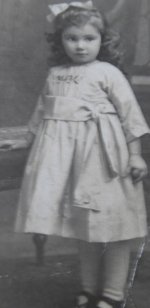 Thu, 04 Apr 2019
updating 'Inconnu', nearly 94 [a book that's closed, with cheerful cover …]   https://www.abctales.com/story/rhiannonw/%C3%A2%E2%82%AC%CB%9Cinconnu%C3...
photograph of my mother-in-law
age two and a half – 1922
I first met her when I was engaged in 1969,
she was almost 50:
Until 2018 (age 98), I saw little below
the pleasant mask; it's hard to help when
you can't get close, comprehend the feelings.
Then – broken arm, confusion deepens,
communication even more difficult,
but suddenly aware the mask has melted,
and she speaks of (she can talk
so much more easily than she can hear!)
the buried memories of hurt –
parents' post-war (WW1) quarrels
(married in haste early war?
insensitive to each other's
wartime experiences, PTSD?)
Did they realise their young child's
anguish, that the bitterness
would be bottled-up for 90 years?
Separation. Her mother's refusal to
touch presents received from her father.
Sick mother (TB), kind relatives.
(Did she have untrue sense, unexpressed,
of herself being an intrusion into their families?)
Second World War, and immediate marriage:
husband introverted, engrossed with
himself and his own worries
– amiable but frequent explosions –
she doesn't realise even now
that she'd been so hard to 'read'
– though he probably didn't try –
but they persevered, for 70 years.
Now feels she is taking pleasure
in the care of the nurses,
the visiting of her son and daughter (and me!)
says she is revelling in love,
and says she has shed long-held hatred,
anger, bitterness.
2019 – no broken arm, but dreams trouble,
has long found it difficult to distinguish
dreams from present reality,
some pleasant, but some seem
to raise distorted memories
and life-long fears,
and mixed, entwined together with
films seen, books read –
to frequently overwhelm.
'I do believe' "Take comfort, then."
"Rest in sure hope", to soothe your
wakeful times and memories and dreams.
0ne day, 'I've let go of those
nasty dreams of the last few days –
it was about some unpleasantness between
John (husband) and my mother –
that time's long gone, it isn't now.'
These late years may have a usefulness
of which onlookers are unaware.