These Games We Play with the Universe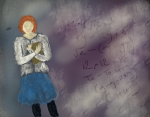 Fri, 23 Dec 2016
"He's beautiful."
I lean past Tasha to get a better look. And she's right, he is. He's unstintingly gorgeous. I put him in his very early twenties, or maybe nineteen. A golden boy – bright hair reminding me of wheat, reminding of me of sunshine reflecting off a lake. His face is fine, almost feminine, all clean lines, with just a shadow of stubble to bring out another side to him.
"Mine," I say quickly.
"We're too old for that."
Way too old. But that's beside the point. I can hardly feel those years and universes resting on my shoulders. They might as well not be there. "We never compete," I have to remind her.
Universes, falling into black holes. Meltdowns of galaxies.
Or do we just like to flatter ourselves?
"Well, then," she says.
"Well what?"
"If you're taking ownership, go take it?"
"You think I should go up to him?"
Rolling eyes: "Yes."
"And say what?"
"Something'll come to you."
#
Nothing does. And I'm standing there like an idiot. I feel nerdy and gratuitously unsexy in a dress that dips past my knees, in flat shoes, a grey cardigan, my hair tamed.
"Looking for something?" Because we're standing right next to a wall-full of noticeboards. 'For Sale'. 'Flatmates'. 'Tutors'. 'Activities'. He steps smoothly up to my side.
"Just killing time," I say, in love with that phrase. With its implications.
"I'm looking for a flat. Seen anything good?"
I shake my head.
"Darren."
"Um. Kate." I should be good at this. I should be smiling and flirting, twisting him around and admiring him from all angles. He should be the one who's all thumbs and swollen tongue. Words should be chasing themselves away from his mouth.
"Study here?"
"Yes. Maths. And applied maths. Computer assisted maths."
"Ouch. Really?"
"I like numbers. I like equations."
He tilts his head. He's weighing me up. "Would you considering getting coffee with a guy who has about half your IQ?"
Didn't even have to lift a finger. Tasha would call this getting off easy.
She's probably right.
I find my missing boldness. "It's a date."
"A date date?"
I'm flowing like silk and hot honey again. "Sure. Bring your wallet."
#
When I see him again he's aged. You could put him at more like twenty-five. Growing a wispy attempt at a beard. His eyes are angled more downward, his shoulders a little bit broader. He breaks into a smile when he sees me, comes over to me at something almost like a run.
To me. I have impressive red hair that comes to me naturally, that twists into ringlets of its own free will. But I don't have a lot else going for me. An unimpressive figure. An ordinary face. So to see his eagerness, well it feeds something inside me that didn't even know it was hungry.
"You came," he declares.
"Of course."
"Well, not all girls do."
"You've been stood up before?"
"More than once. I imagine you don't have experience with that."
I think about universes shattering. "Not really."
"Well, take it from me, I appreciate the fact that I'm not on the receiving end of that today. Seat by the window?"
"Yes, please."
We sip coffee. And we eat the lemon croissants they make here. And Darren is a really nice guy. He doesn't even seem to mind that I keep dragging out my notebook and scrawling there. He tries to look, doing an endearing best to be subtle about it. I turn the book around to show him my equations.
He shakes his head: "I'm studying Literature and Greek Art."
So I challenge him: "You don't see the beauty in what I've just done?"
"To be honest..."
"Look closer."
"I see numbers."
I laugh.
"What?"
"You're the square root of perfect."
"Uh... thanks."
I'm fascinated by his eyes – such a rare shade of blue, interspersed with green. Turquoise if you choose one angle; striated emerald and sky from another. So when he tells me that he'd like to do this again, I tell him I'd be happy to.
#
And Tasha tells me not to get too attached.
"As if I would."
"You forget. I know you."
"He's nice. He's fun. That sort of thing makes the world go round."
We both think at the same time about the forces and figures, the equations, that make it truly go round. We see each other's eyes, realise what we're both thinking, and we fall about laughing. We
laugh so hard, grabbing onto walls, staggering against lamp-posts, that people pause to stare. Heads turn our way, feet keep on walking.
"It's not stable though, Katie."
"Hm, I know."
"But you're seeing him again?"
"Tomorrow."
#
I see numbers. That was what he'd said to me. But he doesn't. Not the way I see numbers. Not the way I see them in every shape, in every angle. I walk through the park and I take in the way each little thing is formed – the geometry of grass growing. They're all made up out of numbers. I can see those numbers, packed to overflowing beneath the skin of every living thing. The angles just calculate out in my head. The equations that map heart and lungs, and keep the rhythm of breathing.
The universe comes apart in my eyes.
And Darren is closer to nineteen again. His hair has grown longer and his eyes are now green. Funny that these things can keep changing – that they must keep changing – but he stays obstinately beautiful. When I see him I see all his angles, he's a walking explanation – pages and pages of numbers and operational signs that map him from top to bottom. And still. There's something more about him. There's an intangible. A marmalade secret buried in the same green eyes, flickering in the smile.
He has his picnic basket in hand.
"You've brought the works."
He's come here with ham, rolls, chicken, oranges, grapes, salads, chocolate, muffins. You could feed six people instead of two.
And a chilled white wine.
The park is in blossom. We sit under white clouds of apple tree, lounging back where the grass is thick and sewn through with clover and buttercups. He watches while I make a web of these flowers. An atomic map. And I sit with my legs crossed and scrawl in my little book, covering pages with numbers, looking up at times to see his eyes deepen, take on a green that belongs in deep wilderness – near black, conjuring pine trees in my mind.
Our first kiss is here. And the thrill of it fizzes through my bloodstream.
So very much, I don't want to give this up.
#
And in the lecture hall, I get distracted. I scribble in my book. I dream about making something permanent with Darren. Maybe this time. This time...
Professor Strombard throws a piece of chalk at me.
Laughter erupts.
"Sorry."
"Perhaps you'd like to solve the equation on the board."
I do. And I keep going. I make up new equations, I write until there's no more board and he stops me. He's puzzled. He knows this is something advanced. Something so advanced that he's not sure he even has the capacity to understand it. But he's a leader in his field, intelligent and well-versed enough to get an inkling. And I can see it in his eyes – in cold numbers, in ever-dividing fractions – that that inkling has him terrified.
In the same moment, I picture his face melting. And I picture it so vividly that I have to turn around and walk away.
#
Our first kiss was our last kiss.
"I'm sorry," Tasha says with real sympathy. There's an I-told-you-so not too far below the surface, and her sympathy is edged around with smugness. But she does feel for me. Her measured pity reaches out of her mind and lands, whole, in my own.
When I next see Darren he is close to thirty. There's a woman on his arm and child at his hip.
Then I see him barely eighteen. His arms has been crippled, and his face bears a long scar. He's troubled. He looks right through me. In a sense - and from his perspective - I suppose we've never met before.
Then I see him, dirty and grey-faced, huddled against a rubbish bin, holding his hand out for change. Nobody gives him anything, except me. As I drop the coins into his palm I can see the track marks leading up his arm.
"It's all in flux," Tasha reminds me.
"It was nice while it lasted."
"You'll find someone else."
"And he'll unravel too."
"All in flux," she reminds me.
Especially near me. Us. I wonder if I could change things. I wonder if I could direct my equations at Darren – take what needs to be random and make it pinpoint intentional. Imagine what could happen if I were just to focus. Imagine: well, it conjures up a beast, all black fur and red eyes, poison dribbling down out of those eyes.
Maybe not, then.
The closer he came the more he distorted. So perhaps that makes this all my fault.
"We are what we are," says Tasha, draping her arm across my shoulders. "Come on, I'll buy you an ice-cream."
"Thanks. Imagine: a world without ice-cream."
"Let's hope we never let that happen."