Wrinkles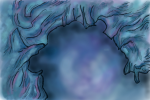 Thu, 21 Sep 2017
Her mother always told her this: iron your clothes before you go out.  It's a minor thing, but it makes a difference, it affects how people see you.
Her mother was twelve thousand miles away.
It was raining, raining hard; and Loretta was an unknown number of blocks from home.  She wasn't even entirely sure where home was.  That is: she'd got on the bus, good intentioned, reading what she'd been sure was Edderley Groves on the sign, only to find herself at the end of the run, far away from anything, looking down a twisty and unfamiliar street, and thinking: what the-?
She could be anywhere right now, and she was getting increasingly soaked, standing next to this little white sign with a little red picture of a bus on it; her feet in a puddle.  Her skirt had been wrinkly when she left home this morning.  So had her shirt.  She thought she owned an iron, she remembered buying one, but she couldn't remember what she'd done with it any more.  Who irons, these days?  But she could never think that without seeing her mother's face and seeing that look in her eyes.
The look that'd put her on a plane.
The look, coming back into her mind's eye, which right now made her want to her jump right back on one and go home.  She missed her family.  She'd had no idea she was going to, but she missed them so much at times she would just sit on her bed and cry.
So much for being grown-up and independent and free.
Her skirt: too wet to still be wrinkly; her shirt clinging all over her.
I'm an intelligent twenty-year-old woman.  I am a grown up.  I can handle getting on the wrong bus and ending up… here…
Strange neighbourhood.  The houses were all constructed from the same smooth grey-and-white concrete, some of them terraced, some just seeming to copy the motif of what had already been there.  The gardens were all neat and sparse, and there was an eerie sameness even to the numbers that glittered off the letterboxes all perched at the end of sweeping garden paths.  Where the houses and gardens weren't, there was little evidence of upkeep from the council; no grass verges, but some empty lots, some clumps of trees, vines; boulders that slid along a hillside that seemed properly, primordially wild.
Lights in the windows.  Evidence of curtains.  No surprise that there should be no people out in weather like this.  The road finished in a cul-de-sac, so there was no reason to expect much traffic.
At the bottom of the hill though, there was a sign handing over a door, the writing too far away to be readable, but the picture of a coffee cup seeming to offer shelter and respite.  And maybe directions.
Loretta shook her head at herself.  Feeling ridiculous.  Feeling unsettled by this undiscovered suburb, but without being able to give herself a reason for it.  What's life without a bit of truly harmless adventure?  And she tossed her bag over her shoulder and headed down the hill.
            #
Lily and Capricorn.
Well, that was quite a name for a café.  A bell tinkled as she went in.
It was all warmth and autumn inside.  Wood-panelled, and upholstered in savoury, sunny colours.  Rows of wooden tables greeted her, and a scatter of customers whose heads popped up briefly as she came inside, dripping copiously on the doormat.
A woman at the counter greeted her.
"Um.  Coffee.  Latte."
"Sure thing."
"And that cherry pie at the end."
"No worries, love.  Take a seat, I'll bring it out."
Loretta sat.  She was trying to work out what to do with her saturated hair, when a girl in an apron brought her a towel.  Lightning smiles passed between the two of them.  Rain and hail flung themselves against the windows.
Loretta sat awkwardly, wringing out her hair, rubbing the towel over it and then the back of her neck.  She could hear music playing faintly in the background but couldn't work out what it was.  An attractive man sitting a few tables away seemed to be making eyes at her.  Maybe.  His hair was deeply blond and sat in an odd style that lapped at his shoulders.  Steady blue eyes.  Maybe watching her.  Glancing away again.  She was caught in a web of indecision there: smile at him, even introduce herself.  This just seemed like a day for doing whatever came into her head.
Her phone was wet, but seemed to still be working.  She tapped up the GPS programme, but found herself unable to get a steady enough signal.  She googled a city map, but the app spun loosely, bringing nothing up.  Like a wheel suspended in the air.  The screen flickered.  She turned it off.
When the woman from behind the counter brought her her coffee and pie she asked where she was.
The woman offered a mild, surprised frown.  "Three-hundred and twelve Eagle Place."
"I'm out of my neighbourhood."
"Don't worry, this one's friendly."
"It seems to do good pie."  Try to be nice.  Never costs you anything.  Loretta's mother had told her that one too.  It never hurts to let somebody like you.
The café woman was smiling.  "We like to think so."
"When does the bus come next?"
The woman glanced over at the bus stop.
"I just caught the last one up."
Her hesitation became a frown.
"Is something wrong?"
"We're not expecting a bus."
"It's only four o'clock."
"Not any more love, they don't come."
"I came."
"Sorry, love."
She felt the moment.  Those interconnecting seconds where something falls into place.  Or out of place.  The unreality.  Coming towards her in a slow wave.  But-  She looked over at the bus stop, a distant little red-and-white splotch.  Right there.  And she'd stepped out there and walked down here.
"Sugar?"
Loretta almost jumped.  She chained the smile to her face.  "Thanks.  And… do you have a bus timetable, for… the nearest...?"
"Sure.  I'll get one."
But that was in gibberish.  Loretta stared at it.  Waiting for it to come into focus, for the symbols to suddenly start to mean something.  Was this Chinese?  Was this what it felt like to be having a stroke?  She was only twenty.
She took a sip.  Her latte tasted like… like copper… like…
The aproned girl put a bowl of raw sugar down on her table.
Loretta thanked her.  She felt dizzy.  Her pie at least tasted like cherry.  A good one, thick and syrupy, full of ripe, round cherries.  The soft pastry dissolved on her tongue.  In her present state of mind this tasted like the best thing she'd ever eaten.
"Okay?'  the aproned girl asked her.
"Yeah.  I think so.  Got on the wrong bus.  Phone's a bit…"
"Yeah, the reception's a bit…"
"Oh."
"You know how it is.  Up here."
No.  But she settled for a polite nod.  She dunked a few spoonfuls of sugar into her coffee, and it drowned out the coppery taste.  The warmth of it eased her mind at bit.  Not the first girl ever to get on the wrong bus.  Or get the Chinese version of the bus timetable?  Once the rain stopped she could walk until she found a reliable bus stop, and a decent wireless connection so she could bring herself up – a little red-headed pin – on a map of the world.  She'd feel better then.
She looked down at her skirt; which was wrinkled and in need of the iron she may or may not still have at home.
            #
Loretta didn't see the old lady until she'd already sat down at her table.
Her most immediate, reflex thought was that she'd never seen a human being so old before.  The woman's face was so deeply lined as to seem almost tiger-striped, her skin crinkled minutely around the shape of her face.  And then, in the next flurry of seconds, she didn't seem that old at all, there was a springiness to her folded skin, a brightness in her eyes, a strength about her that belied the original impression of old age.
She didn't appear to have any greater interest in ironing than Loretta did; not if the rumpled blue shirt she wore was anything to go by.
Perhaps it was the impatience, or the wisdom, of years that made her so readily and boldly sit down at the same table.  Perhaps, in seven decades, she too would think nothing of doing exactly as she pleased: the scarcity of years and days twisting her perspective on everything.
Lorretta tucked a few wet strands of hair behind her ears and smiled at the woman.
"You're not a local," the woman decided, running her eyes unabashedly up and down Loretta.
"No.  Really not."
"Well, never mind.  You picked the right place to be elsewhere."
She nodded.  "Well, the pie's good."
"Best you can get for miles around.  Especially these days."
The 'these days' echoed in her head.  It caught something in her imagination.  "These days?"
"Ah, well, nothing's like it was, is it?  But you're too young to remember much of what was I suppose."
"I suppose."  She felt uncomfortable, no longer adventurous.
"Bad luck with the rain.  It can be sudden, can't it?  I think that's why my mother always used to say to me: 'Always carry an umbrella.  Or if not an umbrella, a comb.'  A saying for everything.  Advice for the ages."
In spite of herself: "What else did she tell you?"
"Never let a chance to do kindness pass you by.  Or a chance to have kindness done to you."
"That's not bad."  And she could picture her own mother saying the same.  Could picture it literally, the expression on her face, the way her eyes would narrow a little, the way her lips might move. 
"I met my husband that way."
"As an act of kindness?"
"Exactly.  I saw him fumbling with a bus timetable, at a loss, trying to work out the maps.  I almost walked right past him.  Imagine: what might never have been!  If I'd been looking the other way, seen a pair of shoes in a shop window.  Imagine.  But instead, I asked him if he needed help, and instead of politely shrugging it off he admitted that he did.  Thirty years we had."
Loretta was torn between offering congratulations or condolences: thirty years, had: past tense.  She felt she should ask what had happened, but couldn't find the words.
"In the mess.  That's how he died."  The old woman sighed, shaking her head at the world.  "Didn't everybody, though?"
"The mess?"
"There's nobody hasn't lost somebody since it began."
"But what… mess?"
The wind and rain answered with a flurry of violence against the windows.  It was enough to shake them, to make them flex and shiver.  In her mind's eye the glass was shattering, fine like diamonds, and the storm was striding in on two legs, both magnificent and pitiless.
There was a sudden flash of light, which for the first half second could have been lightning: except it wasn't sharp enough, not white enough.  The sky was briefly painted in sunset colours, the café painted the same.  There was heat in this moment of light, and a shuddering of the earth.  There were a few seconds of silence as the patrons, the woman, the waitresses all froze in what they were doing.
As the light dimmed, as it rewound in on itself, it left a small blush against the horizon, streaks of reddish dust marking the sky like scratch marks from gargantuan claws.
"What just happened?"
The woman told her: "I think it's time for you go home now."
"Well, I… would…"
"Your bus should be here in a minute."
"She said… there were none anymore."
"Any minute, my girl.  Don't miss it.  Whatever you do."
On the table in front of her, her timetable was morphing into English.  Suddenly the words were quite clear, and the next bus - 4:15 - was due at the Eagle Place terminus. 
Loretta looked up at the woman.  "It… wasn't…  It wasn't…"
She smiled.  "But it is now.  Don't let the chance escape you."
Because if I did…?
No-one else was going to catch this bus.  She was beginning to understand that they couldn't.  They all looked as she stood up, as she walked back out into the rain.  The handsome young man gave her a crooked halfsmile.  One waitress nodded to her, the other one gave a brief, three fingered wave.
Loretta ran for the bus stop.  She was wet again within seconds, and the bus was already in sight.  The sign still promised her Edderley Groves.  Or maybe not?  She climbed up and found a seat – all empty but for her and the driver – resting her forehead against the window.  She could see her reflection clearly in the glass.  And she could hear her mother's voice in her head: Take whatever life gives you.  It might not offer again.
Picture credit/discredit:  writer's own work