The Kiss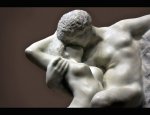 Fri, 27 May 2016
There are several young people in the art gallery sketching copies of the grand masters' works but you notice her in particular because she is sketching the visitors rather than the exhibits.  
You are standing a little behind her as she sits on one of the central soft
benches with a large pad on her lap.  In the top left hand corner is a
sketch of a tall young man bent forward peering closely at some detail
on a picture - just as you are inclined to do.  It takes a moment for
you to realise that it is clearly a sketch of yourself.  You had always
been so proud of your dense rich beard but it pays to look less Islamic
here in the West and you are not yet used to being clean shaven.
She is drawing someone else now, her pen making swift, almost jerky,
movements - her head bobbing up and down between her subject and her pad as the image seems to grow out of the paper.  All your life you have wanted to be allowed to do this.  It was one of the reasons you decided to make the terrible journey to so-called freedom.  And now you are here and you are faced with a whole new set of complications.  But for now it is enough not to be cold and hungry - and not to be attracting attention.  The art gallery is a perfect place to pass the time between 
restaurant scullery shifts.  To stand around looking at extraordinary,
stimulating images is actually deemed a normal activity here in the
West.
The girl is wearing a faded baseball cap with a shock of unruly wiry ginger hair tied in a pony tail protruding through the gap in the back of the cap.  Around her neck is a necklace of deep brown irregular ceramic
beads.  You look at the back of her neck and you realise that you have
seen very few female necks in your life.  This one is pale, long and
slender with a dusting of freckles and you surprise yourself by
realising that you would very much like to brush your lips against it.
Suddenly she turns around and looks straight at you.  Your eyes meet and it takes a second for you to drag your gaze away from her.  Her expression says 'You are looking at me and now I am looking at you'.  You find her frankness both thrilling and terrifying.  You have been noticed.  You have been caught looking where you should not have.  And thinking inappropriate thoughts.  And now you might have to explain yourself. And your English is not good.  You feel the heat rise in your face and a tiny bead of sweat trickles down the small of your back.  If only you could meet her gaze - smile - and maybe make some nonchalant comment about her sketches - like in that American movie your saw.  But instead, you look down at your feet and shuffle into the next hall and then on into the next, trying not to make it look like you are running away.
No sooner are you calm again and looking at another picture when you
become aware of someone standing very close to you despite the relative emptiness of this particular hall. Your shoulders are almost touching. You don't know why but you sense that it is the same young artist. You keep looking straight ahead as you feel the agitation in your chest start up again.
Then she saunters forward towards the picture and you see that it is her. She is unusually tall.  As tall as you at nearly two metres  She is
wearing a pair of old, tight fitting jeans.  Her tee shirt is too short
to meet the top of her jeans exposing a hand's width of naked flesh. 
Over her shoulder she carries a large floppy leather bag with a sketch
book sticking out of the top.  
Flat shoes.
You see now that she is probably about sixteen years old yet she moves as though the whole world belongs to her.  She stops before the painting
and bends forward and peers closely at it.  Clearly she is making fun of
you.  You think you ought to be offended but instead you catch yourself
trying not to smile.  Then she straightens, turns, catches your eye -
and winks.  She is, indeed, having fun but not in a humiliating way. 
She is recognising you.  As if to say:  'Us tall people have to bend to
see the world as others do.'  She is inviting you to share in a
conspiracy of tallness.  Once again you cannot hold her gaze and, as you bow your head, you know that she can see the smile twitching at the
corners of your mouth.
But still you cannot cope with the situation.  You know nothing of each
other's families.  You bolt for the gents toilets where you splash water
on your face.  You look at yourself in the mirror.  You have regular
enough features, in a semitic sort of way.  The lack of beard has
revealed a strong jawline that you cannot help but be pleased with. 
Shame about your bright dark brown eyes with long lashes. Not very
manly.  You practice a casual wink.  No.  It doesn't look right.  You
need the confidence inside if you want it to show on the outside.
You glance at your watch.  Your shift is in half an hour.  Best not to risk
a further encounter so you decide to just leave and sit on the bench
under the tree in that little park opposite the restaurant until your
shift begins.  
You head for the lift and prod the down button.  The door opens to an empty lift and you step inside and as the door is closing you see the girl
running and calling for you to 'Hold the door - please'.  You instinctively do as she asks and she leaps over the threshold, smiling her thanks.
Somehow her shoulder bag must have got tangled up with her necklace because suddenly the floor is aclatter with falling ceramic beads as she squeals her distress.
You have been handed a life raft - a distraction from confrontation - and
you immediately drop to your knees and help her gather up the beads as
the lift descends.  By the time you reach the ground floor most of the
beads are safely stored in the cigar box she uses for her drawing
implements.
'Come,' she says, 'I buy you coffee', and she hooks her arm in yours and
propels you across the foyer, out of the main entrance and into the
Costa Coffee next door.  She sits you down on the end of a long oak
table, dumps her bag and goes to the counter.  There is no escape now. 
She has left her bag in your care.  But by now you are beginning to
relax and enjoy yourself.  If this is how boys and girls meet in the
west then so be it.  
She returns with two double expressos and parks herself across the corner of the table and waves away your offer to contribute.
'Your home is here?  In London?' you ask.
'No. I am from Holland.  Den Haag.  I am with the school trip to visit
museums and galleries.  Soon the coach comes and I leave.  And you?  Do you live here?'
'Er… yes.' 
She studies your face.  'You are very beautiful,' she says, smiling.
Once again you feel the heat rush into your face and you stare into your
coffee.  She dips her head down and looks up at you to catch your eye. 
'Don't be shy.  It is okay to be beautiful.'
She is teasing you again but it feels nice.  Exciting.
'Come. Time for photo.'  She rummages in her bag and pulls out a phone and presses it into life.  Holding the phone at arms length, she leans
across the corner of the table and puts her arm around your neck,
drawing your face alongside hers facing the phone.  She smells faintly
of jasmine.
'Smile.'
Click.
She moves her hand to behind your neck and turns to face you.  The teasing smile has gone now as she studies your face.  
Her mouth is slightly parted.  
She licks her lips.
You are falling now.  Out of control.  You are going to kiss her.  You can
no longer consider the appropriateness because it is going to happen
anyway.  You stop breathing.  You feel you might faint.  You close your
eyes.
And then it happens.  Gently at first.  Her lips soft.  Yielding.  And then
the tip of her tongue is probing into your mouth seeking, and finding,
your tongue.  Her hand, on the back of your neck is holding your head in
the clinch.
Click.
You open your eyes.  Something is not right.  You pull away.  She is
checking her phone.  Then she suddenly stands up, puts the bag over her shoulder, winks at you again and walks  to the door, waving briefly
without turning round.
By the time you follow her to the door, she is twenty metres away walking towards a bunch of teenagers loitering on the pavement around the door of a coach parked on the side of the road.  When she reaches a knot of girls she lifts her hand and slaps their raised palms in turn before
turning to an accompanying group of boys.  In one hand she brandishes
her phone and in the other, her upturned cap into which the boys are
dropping money.
Then, as you watch, the door of the coach sneezes open and the boarding begins.  She turns then, and looks at you with a regretful expression.
'Sorry,' she mouths.