Huroosh!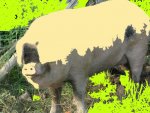 Wed, 03 Feb 2021
Huroosh! Huroosh!
 His voice was the perfect hoarse for wielding such a word, perfected through issuing it at least four times a day
 Huroosh, ye good thing!
 Moloney kept pushing.  But Hilda wouldn't move.  Her snout was jabbing in and out of the soil. It wasn't a juicy vegetable she was after or even a small insect to eat; she was into that dirt, deeply.  Hilda, the sow of all sows, was now at such a stage of fat that it begged slaughtering.  He should really get it done with.  Be done with all the animals in fact, for there was enough money coming in from turf at present.  Except for Joseph.  Sure there wasn't much meat on the bird for selling anyway. 
      Though he'd tired of keeping livestock he'd been too lazy to do anything about it.  He did not like the social consequences of attending those cattle marts, listening to a pack of scangers blather on and on; he'd rather concentrate on the turf-cutting, which was after all how the family had built its business and widened its claim to all these lands which now belonged to he alone.
            Hilda lifted her hind leg and a drift of sulphurous gas emerged and it was as oddly quiet as those Moloney remembered his second uncle Bernard used to let out, forged in some noiseless realm where filth was commonplace.  Only the sow of all sows could release something this enigmatic.
Huroosh!
Hilda stopped and started on her way back to the paddock.  He imagined she was going a bit mad in her old age.  The other swine were quite happy where they were and even though they would bolt on occasion like normal pigs, they were not about to trot off daydreaming like Hilda was.  She was a pain in the hole but he couldn't bring himself to put her down himself.  Though it now was looking like he might have to.
He put the brown kettle on when he got inside and went over to Joseph.  The budgie was in a pensive mood, not a word out of him today.  So he let him be.  Then he went back to the kettle and waited.  There was still time before the water boiled so he went to the brown cabinet and fetched one of the shotguns, the Beretta Silver Pigeon, along with a clattering not quite full carton of 12 gauge shells and he placed both articles of ruin on the brown couch. Next he got the milk and the cup and bag and went to meet the kettle stopping. Ah yes, this is the life, he thought, for he loved the sight and sound of the hot water pouring.  He then sat down on the couch and quietly sipped his tea as if he'd been commissioned to model the most splendid pleasure in the world.
            The house was stern and unadorned - brown.  He kept some books on a shelf, books that belonged once to the Oul Lass, the works of Shelley and Kipling, books which he had in fact read, multiple times, though not necessarily in tribute to their owner.  Point of fact, he was not the unschooled brute some woolly mulligans we know would like to imagine he was.  Other than those books, there was nothing else there to remind one of the Oul Lass, no photographs, no heirlooms.  Likewise, nothing reminded one of the Oul Lad either.   Nevertheless, both were in his mind now as he sipped his tea.
One day long ago, out on the bog, Moloney cut the Oul Lad down with a heart-shaped hoe and used that same hoe to dig a worthy grave where he buried the villain five years deep.  Which as it turned out wasn't deep enough.  He should rightly have dug many more years down.  But it was as good a grave as a man like that should have, for didn't he knock them both about the place for far too long.  Lucky the Oul Lass passed before there was time for her to care about the Oul Lad's absence, which she would have done, shockingly, as she did throughout her years, petrified but perpetually faithful to the scoundrel, and the boy through all of it hiding in the barn wishing for the day he could grab hold of that hoe, that heart-shaped hoe, or any other shaped hoe, to cut the evil bastard down.  But that's how she was, the Oul Lass.  The younger Moloney was of the feeling she only dressed like a brídeóig round the house to appeal to the Oul Lad's sense of the divine, but she was wasting her time appealing to that ignorant soul----oh, he could have told her that alright, if he'd been older and wiser and braver.  But he listened and it registered with the young man whenever she said to him, wretchedly, We were born to suffer, son, born to suffer. 
Well, he might have been born that way but he wasn't going on that way; and he would certainly bring that way upon the heads of anyone seeking to befoul the irrefrangible laws of the land.  For it was his land they were on, those woolly mulligans down there, and that fustian fucking senator.  His land.  And his body.  It was his body they'd found.