Popes in Windows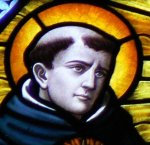 Thu, 04 Jan 2018
Her parents had been to see three popes at the Vatican window, and they would have seen more, if there had been more of them to see in their lives.  While she was not as religious as a great number of her forebears, Lizzy still found herself studying theology in the Hewson Jesuit college and she'd light candles sometimes in the chapel with the others; but they were dishonest candles she lit.  Between the chapel and the monastery, there was a damp and drippy corridor which had come to disuse, with only a janitor humping through it once every few days; it was a nice place to sit and smoke when she couldn't be bothered going to class, a wee haven from all the heavenly discourse.
The last of the tobacco was sawdust, but it could still be smoked, and if she was careful and rolled a tight one, she might yet get another out of the dry grain.  She liked to sit there and listen to footsteps echoing in the chapel while thinking about life and imagining one better.  That's what she did now, but there were no footsteps.  She used her feet to tap her own rhythm on the floor to fill in for the absent footsteps and hopefully revive recent daydreams she'd been enjoying.
Stephen Leeslips, the UCD man, who came to Hewson to teach Canon Law, was found with his throat cut at the doors of the chapel in the winter of 1999.  Before this happened, he was the most popular lecturer in the college; he brought a secular vibe which fascinated the more prudish and restrained students, and knowing that he answered many prayers sexually, he enthusiastically went to work putting flesh to their fantasies.  This forthrightness led to escapades with half the female population of Hewson: students, lecturers, guest lecturers even.  But before this most excellent scandal could be read out on the Hewson news, the murder happened and the juicy background details were put on hold.  The crime was attributed to Barton O'Hare, a celebrated postgraduate who had recently published his Sexuality: A Thomistic Perspective, and who felt compelled to murder as a result of deep eremitic consternation.
Footsteps.  The chapel was occupied now.  But the footsteps were unlike those Lizzy was used to hearing.  These were more rough and booty, not the usual slappy sandalwear of the community at large.  The footsteps intrigued her, so she did something she hadn't done before in her history of smoking in the hallway between the chapel and the monastery: she got up to take a look.
She wasn't keen on churches, had never liked the look or smell of them.  They had always smelled like death to her, but she could go beyond the smell and see this chapel for its beauty now.  She could admire the wine-coloured wooden pews, the stained glass memorials of Augustine and Monica, and the altar which looked like an ice palace on top of a gold mountain.  Yes, strangely, she found it appealing for the first time in her life.
She knew him from seeing him around the college.  One of the trainee priests – well, he was always sitting with them in the canteen.  The Carmelites.  He looked about 25 years old and he was quite handsome with a well-kept beard.  He was sitting alone in the second row and staring dreamily at the pulpit as if imagining himself there someday elevating minds with a poignant sermon.  He greatly interested Lizzy so she gently sailed across the chapel and moved up the side of the right aisle until she reached the rack of prayer candles in front of the altar; dishonestly, she lit one up, blessed herself, and put her hands in her pockets.
'Hey,' the young man said.
'Hey,' she replied.
'I'm Matthew.'
'Lizzy.'
 She realised she'd never struck up a conversation with someone at church.  The opportunity had not risen before.  People were too busy having conversations in their heads to provide access for dialogue with her.  Once she'd tried to joke with a friend about the bald patch on the head of a man sitting up front, but her friend had taken the hard-line and ssh'd her.  Matthew happily didn't ssh her.  Conversely, he went straight into it. 
'My mother's dying and I haven't told her that I'm gay,' he told her.
'That's too bad,' she replied.  'I'm sorry.'
 'I'm thinking of packing all of this in and going home and telling her.  What do you think?'
'Well, I don't know.  How will she react?'
'She'll flip.  She's not a fan of gayness.'
''Then why tell her?''
'It's weighing me down, and it'll weigh heavier once she's gone, I think.'
'I see.'
'Anyway, why are you here?' Matthew suddenly asked her, with a brightness rising in his face.  'No class?'
'No, well, yeah,' said Lizzy.  'Just didn't go.'
'Oh.'
'Shit class.'
'I understand.  But why here?  Catching up on prayer?' 
'What do you think?'
'I didn't think you'd be at prayer.  I've seen you around.  You're always at the bike sheds with the other heathens.'
'Yeah, that's where we hang.'
'I've always wanted to go over and say hello.  But I'm too shy.'
'You're welcome to join us heathens anytime.  We won't your bite your head off.  Well, some of them might, but not me.' 
'So if it's not prayer you're doing, what is it you're doing in here?'
'Smoking.  Well, not in here.  Out there in the hall.  And thinking.' 
'Well, you're in the right place to think.'
'Yes, if it's good for anything, it's good for thinking.'
'What do you think about?'
'Nothing profound.  I usually just think up stories in my head.  Stories about this place actually.  It's not a very exciting place.  So I make it sexier in my head.'
'I agree.  It's not very sexy here at all.  That's my problem.  I can't make peace with the sex in me.  I know it's in me.  And I can't seem to suppress it anymore.  All this stuff around here, none of it helps anymore.'
Matthew rolled his eyes around the chapel for a moment, revisiting with new design the formidable but comforting icons of his life.  Lizzy took that moment to inspect his boots.  They were beautiful brown Belstaff boots, perfect for footsteps.
'My folks are fairly religious,' Lizzy said.  'Even though I'm not.  Really.  But they're full on.  Novena groupies.  Especially my mother.'
'Why did you pick theology then if you're not religious?' asked Matthew. 
'What can I tell you?  We live in a points-obsessed nation.  I was up a creek with the points I had after the Leaving Certificate – but anyway, I wasn't interested in going to college, to be honest.  So it wasn't a big deal for me.  I wasn't yearning for the course of my dreams or anything like that.  But now that I'm here and I'm doing it, I'll take whatever advantages it gives me.  And theology keeps the folks happy.  It's not sexy.  None of this is sexy, is it?  Of course, you know I'd rather be travelling around Asia right now, away from all this shite.  And I will do that.  I bloody will.  Once I get this degree out of the way, I can leave all this point-scoring behind.'
'Well, best of luck with that.'
'Sorry for swearing, by the way.  Since we're in the chapel and all that.'
'Don't worry.  Not a problem.  You know, you were raised well, even though you turned out a heathen.'
'I think you must have been raised well too.'
'I think I was.  I suppose I'm not out killing people.  My mother is a good person despite what the rest of my hometown thinks.  She's misunderstood in this secular age.'
'There's all kinds of misunderstanding to go around.'
'I agree.  I've misunderstood lots in my life.  And I'm getting tired of it.  I want to see an end to all the misunderstanding.'
With that, Matthew stood up.  He placed his hand on Lizzy's shoulder and said, 'It was nice to talk to you, but I think I'm ready to leave.'
'Okay, good luck, Matthew.  It was nice talking with you too.'
'Love never ends, remember, love never ends,' he called back to her as he walked towards the front doors of the chapel.
Lizzy remained in the sanctuary, breathing in its ambience, as the departing sound of Matthew's boots invited more recognisable footsteps in her mind, triggering the return of local phantoms. Turning to the altar, she was met with the image of Barton O'Hare, St. Thomas's young butcher, kneeling with his head down and his arms spread out as though begging for forgiveness.  The body of Stephen Leeslips lay under him, the mark of the blade now just a black brushstroke along his throat.  He was quite fit, Lizzy thought to herself.   She pictured all the girls gazing incautiously at him in class and deemed herself a probable chump too if she'd seen him talking about Canon Law in all his hot erudite glory.  Barton O'Hare stirred.  He began to raise his head slowly and she saw his eyes were red from tears; yet there was also an expression of 'Love never ends' in his face.  It was a frightening expression and Lizzy quivered at the thought of so many intellectual conflicts going on inside him.  How did the standard working mind cope with all that faith? 
Anyway, she opted to park that question.   Because theology was sexy now.  For now.  Even so, she knew she would never look up at popes in windows like her forebears before.
She let the visions fade, thanked God for his time, and went to catch the next class.