Something You'll Have To Live With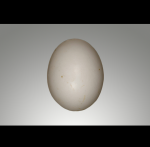 Sun, 13 Sep 2020
1 likes
--Well, there it is – the period of incubation is over.  Whatever was in it is out now.
Sally nodded to Dr. Ryle, raised her camera and quickly got half a dozen photos of the egg as it sat cracked on the beach, a gaping ghost-white giant.
--It was bound to happen eventually, Dr. Ryle said to her.  It's life's way, isn't it?
--Eggs look so pathetic when they've hatched, she said.
--Aren't they supremely innocent-looking things, at any stage in their going?
--Ah, cop on, you couldn't claim innocence of this one – look at the damn size of it!  They'll all be hysterical now.  Just you wait and see, they'll be screaming horror all across town. 
The egg had appeared on the beach almost a month earlier.  Where it had come from, no one knew, not even respected surrogates of science such as Dr. Ryle, sent from the college in the next town over to investigate and analyse the strange object: strange as it was an egg so very much larger than those people were accustomed to seeing in the world, about the size of an old telephone box.
 Dr. Ryle had found an accomplice in Sally Kneale, a photo-getter for the local newspaper, who now stared curiously at him as he scanned the skies.
--You still think it's a bird?
--What else?  said Ryle.  This region is a hotspot for sea birds.  And I can't imagine any creature other than some unregistered plumed one laying something as colossal as this. 
It was an ugly beach, marked by shaggy repulsive seaweed, and tobacco-coloured cobbles and shells, and the water's edge was blackened severely from a nearby pipeline; it was rarely visited upon, except by the occasional dog-walker (John Thornton and his brown mongrel Boo).  That all changed one morning when the strand welcomed upon its grey sands a grand and smooth oblong shape, standing eight-foot tall, glowing white in the gloom.  And within hours, the beach was alive again, as the whole town flocked to it, many of them for the first time, simply to view the mysterious object and ask brave philosophical questions of the world, many of them for the first time.
Where in the world or worlds had the thing come from? 
At first, the townsfolk were unsure if it was an egg – for those who touched it said it lacked hollowness.  It was soft and squishy and in the first days the kids were bouncing off it like it was one of those inflatable party castles.  Soon the texture of the egg changed however as the shell began to harden and all one could surmise thenceforth was that embryonic development was afoot within.  It took a man of science such as Dr. Ryle to come and finally verify this astonishing fact. The effect of the egg's arrival was one of wonder and introversion on the people.  Everyone was compelled to silence in its presence as though it had the fearsome hushing power of a most exalted library; it was an uncharacteristic silence for the residents of this town – since the library was shut down three years previous as satellite television became more affordable nationally.
Their silence might have signified the birth of apprehension and fear in the people, but this later matured to hope and even pride, and it was all prompted by the palliative policies recommended by town leaders during a series of testy meetings in the town hall.
--Whatever is inside, said the mayor, in his famously lamprophonous voice.  It can only be good for our township.  It can only bring prosperity.  We are in the midst of a pregnancy, my friends.  And pregnancies are good, are they not?  A brand new bouncing newborn...
--But what if it's a beast, Mr. Mayor?
--A beast...yes, could be...in all likelihood it will be a beast of extraordinary size, considering the heft on display out there, but think of all the soldiers who are certain to arrive in order to battle it like in the films.  They'll need to eat, won't they?  They'll need a bed for the night.  Come to think of it, that might also provide an opportunity for us to marry off some of our fussier young ladies.
--Fussy? said Lana Garrison, an elder spinster and one of the more prominent and vocal council-members.  Standards are high among the ladies of this locale, I'll have you know.
--Even so, we must stay positive.  We must keep the people in good spirits even if the town is to be ravaged eventually by a monster of some sort. 
--I disagree, Mr. Mayor, said the sneaky political aide who'd attended way too many backroom meetings by this stage in his life.  The more fear in the air, the more submission there is.
--Oh, shut up, you! said the mayor. 
Through pappy sand, Sally and Dr. Ryle trudged towards the intriguing ovoid body.  Along the way, the photo-getter stopped a few times to shoot it from different angles.
--It is good that you are here to record these moments, said Ryle.  I believe we are the first to see it like this.
--That's the job.  I've been here since day one.
--It has brought some excitement to the town, I imagine.
--At first, perhaps.  But we soon went back to our dull ways.  If it turns out to be a fire-breathing pterodactyl that's hatched, give it a few days, and they'll get bored of it and stay indoors glued to their TV's while it's trying pathetically to get their attention with its flames outside.
--You're very hostile.  I think this is such a charming town.  You don't enjoy living here?
--Charm.  Has there ever been a word more overused in this country?  Dull is the word.  The people here are dullards.  Also it's so so very dull here in the east.  I would much prefer to live out west.  Mayo, Galway.  Those are my desired places.
--Ah, Mayo.  The Sheefry Hills.  I'd like it too.  But I can't say I'm bursting to go.  I'm quite happy where I am.
--But you're in the next town over.  It's not like this place.
--There's not a whole lot of difference.
--You've things to be doing with yourselves in the next town over.  And places to be doing them in.  We've none of that here. 
When they reached the egg, Dr. Ryle, realising that the opening was too high up for him, searched around for something to stand on.  Being amongst the ugliest beaches in Ireland, there were plenty of gnarled rocks lying around – he picked up the biggest one he could find, laid it in front of the egg and asked Sally to hold his legs for balance while he looked inside the evacuated pod. 
--Careful of the sharp bits, she told him, as his hands gripped the serrated edges of the shell.
--It's not that sharp actually.
Within the egg, he saw nothing – no embryonic residue, feathers, nothing...just more white.  It was as clean as the plates in a Fairy Liquid ad.  Staying on the rock, Ryle reached into his overcoat, took out his pen and notebook.
--Well...what's in there? asked Sally.
--Not a thing, he replied.  It's an empty cradle.
Ryle stepped down, made some final notes, and rubbed his beard which had grown long and an awful nuisance in recent weeks. 
Sally turned and looked back on the town behind them.  It was a lazy Sunday morning and the church was gearing up for its eleventh hour bell.  Disoriented clouds of dark smoke from the first morning fires bobbed about the rooftops.  The town didn't know what was underway in the world just yet.  Only Sally and Dr. Ryle knew.
--Well, there it is, she said.  I'm no longer the only thing untethered around here.
--But you have your wits about you, Sally.  You are no hatchling.
Though not a hatchling like whatever was loose in the area now, Sally had for some years grown weary of her occupancy in the town as one of the 'eligible' women.  Perhaps it was the age of thirty-three that tended to bring on this despair in a human – for she had not felt like this at the age of thirty-two, or before that even. In fact, in all those years, she'd thought little of her station; she had not envied her peers, those who had all settled into marriage, produced brats by the bucketload, and now wore shit-eating expressions on their faces twenty and four hours a day.  There was a thrill before in being untethered.  But now, against all better varieties of intellectualised judgment, she longed to be tethered.
She raised her camera and began collecting close-ups of the cracked egg.
--How long have you been getting photos for the paper, Sally? asked Ryle.
--Too long.  I've been a photo-getter since leaving school. 
--You must like it.
--The images are worth it.  They ameliorate reality.
--Oh, you're that good?
Sally shrugged and said, That's not what I mean.  I love photographing things.  I enjoy the reproduction process...in the way of imagery, you understand.  I have nothing but ill-feeling for this town, but sometimes... it looks okay, in photos, in postcards, you know. 
--Ah, you're an idealist, like myself.
--Really?  An idealist?  Do scientists go in for all that?
--This scientist does.
 
PART TWO:
https://www.abctales.com/story/sean-mcnulty/something-youll-have-live-2