Contemplation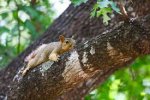 Sat, 13 Aug 2022
1 likes
A squirrel would know the spirit of a tree,
its inner thoughts...a language so free.
As I sweltered in extreme
heat – local oak informed
me: "autumn's just around
the corner, then you'll be
free to converse in forest
again with me."
Language not with words
but with eyes closed, finger
tips gently tracing bark; its
imposing indentations,
recesses leading to burls
of fascination.
It was then I encountered
energies with intimate
approach, for in our
meditative stance; this
engaging soul detected
my touch,
with compassion oak
twigged this thirst to
leave summer and
heatwave behind;
linking its thoughts –
communicating to
spirit and mind.
Pixabay free photo.