Freeing My Spirit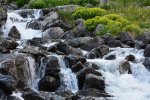 Sun, 10 Jan 2021
Once I meditated on the American Indian way.
This poem is dedicated to that peaceful time in my life.
Storms send out their chant wrapping soul in
thought so peaceful this winter...yet as active
as flames from fire guiding my way, I think of
reaching out with delicate butterfly wings in
summer, not enshrined, but weaving through
days so distant...whispers hardly audible,
cast my eyes upon threads of perception;
treading through assortment of mind tunnels,
an eagle's journey sparking memories of hearing
distant flutes, drums and those passionate friends.
Now! Aging sleepy eyelids entice me into dreams,
once days filled with many roads to travel; energy
gathers me up like free flowing water carrying my
spirit by means of visions, nourishment of an
innocence undemanding,
puffs of wind sometimes sweeping in direction of woods
and forest, busy massaging wrinkled standing bark...as
breezes are unaware of my presence. Hearing hoot of owl
as moonbeams compel night creatures to tread their own
personal paths, while brushing through grass so green,
I too in dimpled wonder free my spirit once again.
Pixabay free image.