Golden Tomorrows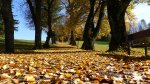 Wed, 20 Sep 2017
Picture from Pixabay free.
Approaching my sixth week of recovery, I'm excited for those brand new tomorrows free of pain, to walk in parks, woodlands and forests, just an aching to surround myself with nature once more.
Feelings of wonderment as cozy darkness arrives,
caressing ardent senses at the coming season...then
thoughts of Autumn's trail of mysteries embrace my
imagination, perceived energies flow all around me,
there's always a need to rewrite over and over
significance of poetic expression, important
to my sanity...showing a path I must follow;
not just today but in my near and distant future.
I think of:
Stumpy blackberries tucked away
tickled secretly by musty redolence,
an assortment of woodland decay
mixed with damp undergrowth,
stunning radiance astounds the eyes
as dappled colors sway on branches,
flickering in late dazzling rays of sun;
setting the scene for a magical vision,
golden leaves of the season's fate
though strong-willed holding fast,
come October's gradual decline
weakness hinders all their plans,
floating, they don't crash on impact
but glide on zephyr's gentle breeze,
composed they touch down gently
to slumber upon earth's rich soil,
seduced by the passages of time,
seeds work their way towards future
generations, seeking Winter's languid
terrain, Summer's balmy passion soon forgotten.