Lydford Gorge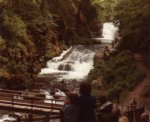 Wed, 10 Mar 2021
Dear diary...recollections of a day out at Lydford Gorge
in Devon back in June 1985.
Down interesting trails somewhere between bending limbs
that appeared to meander descending sloping embankments,
we followed rush of river Lyd, a loud torrent gathering speed,
while canopy of trees absorbed echoes of sweet birdsong that
enriched normality, place tickling with many frequenters like a
community of whimsical enchantments.
I read recently that otters inhabit Lydford Gorge, does this
unseen cute creature with quivering whiskers frolic neath
white lady waterfall? Have those curious eyes ever captured
her ghost pulled from another time? That day we needed to
flex our creativity, imagine this water nymph with long flowing hair,
It somehow refreshed and calmed us to think of her patiently waiting
to appear, while kingfisher gazed from some tree watching for movement
of fish.
There's a thriving energy in this gorge filled with intrigue, you have to
admire its natural beauty. We never did get to see untamed Wood Anemone
embracing whatever brightness could be found. But sights of haphazard
Great-Woodrush clutching shadows of gathering dark hollows were
noticeable, yet inconspicuous to the untrained eyes; such a humble plant.
Soon refreshed at stop off cafe, having drunk numerous cups of tea
with buttered scones and jam, we finished our somewhat intrepid
meanderings that became quite daring in places, where narrow
steep paths had us staring down into deep ravines with just a handrail
to grab hold of; I'm so glad I achieved this challenge back then, because
there's no way I'd attempt such an undertaking now.
As the hours passed and feeling weary, we made our way to the
car park knowing that soon night would put all the colours of this day
to bed and leave me with my enthusiastic memories, enough to write
of this day in Lydford Gorge.
Photo is my own. Somwhat dark, but then I'm no photographer.