Paint The Sky With Stars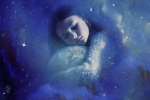 Wed, 29 May 2019
I was just thinking about you dad
it's been fifteen years to this day
when I lingered beside your bed
watched you take your last breath,
though the days – weeks – months and years
have been filled with love, tears and laughter,
lessons of life acknowledged I couldn't alter
endless strength you gave me will never falter,
so for this moment I bless your memory
knowing it was your very last journey,
light candle, hope you're in a better place
in darkness maybe shining star in space.
Paint The Sky With Stars.
From The Best of Enya.
https://www.youtube.com/watch?v=gFiXftlH7ek
This was my dad's favourite CD
before he died on 30th May 2004.
Pixabay free image.