Poet's Narcissus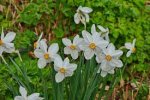 Sun, 30 Jan 2022
3 likes
What are those conscious visions
but moments created, devoted to
thrill of weaving whispers about
fragrant flowers gently accepting
Spring.
Legends expressed; and I succumb
to myths reaching across time, those
enduring junctures telling of a young
hunter in wild days,
Narcissus is his name, devoted to
thrill of how handsome a man was he,
with such vanity that no veils of time
could sway this giddy mixture in water
reflected back he'd see,
even maidens eyes did not hypnotize
with their magical plumage, nothing
distracted him from his own beauty,
but to the end of his days with such
narcissism, he became a flower at
hands of Nemesis with retribution
to sit at foot of graves.
His scorn though has beauty, for this
maiden Persephone surrendered herself
to its perfume: filled with devotion to
creation, to be treasured in Hades's
Underworld where she found home.
Pixabay free image.
Background information according to
Wikipedia.
A poem about a Greek hunter Narcissus
from Boeotia. He was so handsome, that
after catching his reflection in water, fell
in love with himself. No woman could
catch his attention.
Nemesis noticing his vanity turned
Narcissus into a flower – hence the name.
Persephone Queen of the Underworld was
attracted to the flowers fragrance, and began
gathering the Narcissus before being taken by
Hades into the Underworld. The tradition goes
that graves were adorned with these flowers.
This poem was also inspired by Hades story
Disenchantment.
Pixabay free image.