Rhyme Of A Young White Witch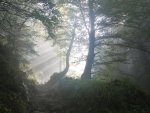 Sun, 29 Oct 2017
1 likes
Picture by pixabay free
Young girl remembers way back when
her mother died when she was ten...
then forced into some foster home
with sadness she remained alone,
Willomina was her birthright name
that her mother Nina did proclaim,
to new family she couldn't explain
how to celebrate October's Samhain,
carrier bag filled with essentials
wrong doing was inconsequential,
she had to leave right now today
fly before daylight, no other way.
Mother's magic young witch craved
deep in the forest's so secret glade,
look after creatures great and small
now eighteen she could take it all,
down each country lane she drifted
as early morning clouds they lifted,
but darkness slowly turned to dawn
still this white witch meandered on,
pure energy that's felt from trees
stimulates mind puts miss at ease,
the forest veil that cloaks this girl
no one about she begins to twirl,
with her pure incessant laughter
wild energizing...dancing faster,
witch no more recoiled inhibited
in deep forest feeling privileged,
Willowmina treads with slight of feet
trees they shade her from sun's heat,
walks an ancient forest's dreamy trail
her visions weave white witches tale...
all whispered rhythms that transcend
this child of nature's dream never ends,
from trees, greenery and all creatures
these, Willowmina's greatest teachers.
"How do I proceed in this quest?
Where should I go, venture next?"
Wandering stony path it clears
then image in her mind appears,
fragments echo deep within
visions of her family kin,
message: progress lies within
written on wooden mandolin.
'Take this route your destiny
where you'll find some equity,
study witch healing alchemy
using all plant life remedy,
to proceed along this path
mandolin it should surpass,
play it simply as you will
but all of nature you must thrill.'
Claiming instrument beginning to play
found she'd mastered it straight away,
sounds emerged as strings were plucked
Willowmina's music did swiftly erupt,
playing through white kissed mist
sight hypnotic she was transfixed,
musical prodigy gazed other side
"I'm going home at last ," she cried,
voice then murmured in her ear,
"you must strip down naked dear."
witch with abandon didn't hesitate
knew her mother's spirit did await,
quickly disrobing and gazing all around
witch she placed clothes onto the ground,
now unclothed white witch she shivered
as dawn's rays then winked and quivered,
naturally trembling with much excitement
spied her cabin which stood still and silent,
child then glimpsed her sacred mother's tomb
which lay beside her treasured magic broom.
Willowmina cheerfully played on with ease
feeling sudden rush of unearthly breeze,
body touching bright curtain of light
like the flickering of wings in flight,
approaching close to door beyond
stands ghostly figure waving wand,
knew her mother's spirit was awaiting
for young witch there's no hesitating,
as the young girl slowly neared
ghostly figure then disappeared,
in its place sits slinky black cat
surrounded by enchanted habitat,
front door creaked as it opened wide
elated nimble feline slipped inside...
Willowmina showed no sign of fear
as a voice whispered, "enter dear,"
young witch peered around open door
stood gazing at leaves on dusty floor,
cobwebs hung from old wooden beams
creating your typical ghost like scenes,
a folklore guide to witches herbs
in book of shadows magic words,
Willowmina could read them fluid
words obscured by her father druid,
upon some grimy forgotten shelves
rows of jars where remedy dwells,
flowers and treatments for to cure
pain of those creatures they endure,
cabin so dirty and plenty to do
where to start witch hadn't a clue,
stepping outside for mother's broom
swept away debris cleared the gloom,
cleansing took up most of the day
evening time came drifting away,
gathering wood from forest deep
before darkness a bite for to eat,
striking matches from foster home
soon a fire gave a warm welcome,
tired and hungry with time to sit;
embers crackle now fire is lit,
time for tucking into bread and cheese
followed by an apple so juicy and sweet,
when she had finished bedtime arrived
All Hallows she would not be deprived.
This is a poem based on a story I'm writing.
Thank you for reading and may you have a peaceful and
thoughtful Halloween.