Scarcely Visible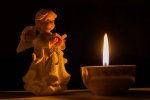 Mon, 28 Jan 2019
That night at home
Creativity got the best of me,
Free to evolve accompanied by
Peace of evening's silence
Inspired a seed of thought,
Entwined with Imagination
Taking delight as I lay
With darkness,
Engaging those
Dancing visions,
Absorbing each one,
Sowing words
Becoming a journey
Into poetic song
That sings to me, and yet...
When I in voice
Ring out those lyrics –
They yearn to shrink back,
For I am just a shadow
Creating alongside half light.
Picture by pixabay free images.