Those Were The Days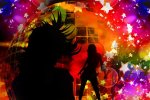 Mon, 23 Dec 2019
Just a dear diary entry and a bit of fun inspired by the I P, about meeting
with a Hawkwind freak at the Bristol Locarno when I was a teenager.
Do you recall Locarno...our brief encounter?
In the bar over drinks we had a lot of banter,
Hawkwind's playing we agreed didn't falter
hitting floor as on stage the band did enter,
we climbed aboard the great silver machine
feeling like passengers in a place to dream,
our long hair to envelope this freaky scene
those pure golden days when I was a teen,
of course back then we were highly addicted
to letting go, headbanging was not restricted,
crazy synthesizer's sounds left our spirits lifted
taking us to far out places as we instantly drifted,
then we felt like masters of our hippy universe
performing their space ritual gave words to verse,
liquid colours and space sounds were interspersed
Lemmy's voice...then Stacia's dancing was diverse,
as they left the stage sadly we never wanted it to end
it was so good to meet like minded Hawkwind friend,
though we never got to meet again, I like to still pretend
you are somewhere out there now who can comprehend
Picture by pixabay free images.