Up Yours 2017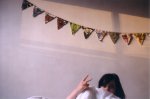 Sun, 31 Dec 2017
2 likes
You may agree when I say…
2017 has been the plug to the barefoot,
The scooter to the ankle,
The shirt you can't iron out every crinkle.
The red sock that turns all your white wash pink,
The reminder that it's Tuesday instead of Thursday,
Or that really important thing you were going to say…
The struggle of waking up during the night and cannot fall asleep again,
The pain of banging your funny bone,
Or texting over your face and dropping your phone.
This year, I've been waiting for that sneeze that never comes,
Instead, I found that cup of tea I've left to go cold,
And of course, stepping in dog poo which never gets old.
The heavy sigh when I've missed my stop,
When I'm comfortable but the remote is too far to reach,
And the annoyance of smudging my nail varnish is something you might preach.
12 months of papercuts, splinters and stubbing my toe,
Losing my balance or tripping over my feet,
Saying an inappropriate thought out loud or sending that drunken tweet.
I've fallen asleep while watching a film and woke up during the credits,
I've put something away safe and never found it again,
And lastly, I've had a crush but their best friend also liked me then...
With all this in consideration, it's fair to say Up Yours 2017,
So please raise a glass with me and countdown from 10,
I wish you a Happy New Year at the last dong of Big Ben.
To 2018…