Aura (5)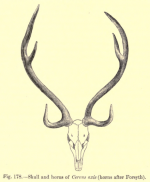 Wed, 31 Oct 2018
The drive back was long and they sat for the most part lost in their own thoughts. At one point Bain swerved to avoid a small deer and as he caught a freeze-frame of the skinny limbs, the velvety antler-nubs, he experienced a sudden spike of fear. It was unusual and draining and he chain-smoked out of the window the remainder of the journey.
Back in Lerwick they parked opposite the station. When they approached they saw Cathy, the receptionist, smoking outside. Her eyes were jittery and she puffed fast. She nodded inside.
'He's not long here. I've made him some tea,' she breathed. 'And rang his folks. I didn't know what else to do. He just walked in and sat down in the waiting room. Did say anything 'til I went over. It's Linda, Bain, Linda Mowat, I... '
Her eyes welled up and her bottom lip trembled. Bain brushed past her. He felt the murk resettle.
Callum Mowat was sitting in the centre of a small row of red chairs opposite the reception desk. Fluorescent lights hummed overhead. He was hunched over his mug. He looked up as Bain and Gillis entered. His eyes were red raw.
'She's gone,' he whispered.
Bain kneeled down before him. Gillis sat one chair along and leaned forward. There was a heavy silence. Bain swallowed.
'Callum - '
'Couldn't find her when I got home. Was wandering through rooms, calling out. She was in the attic. Hanging from the rafters.'
Gillis slumped back and stared at the white ceiling. His hands vibrated on his lap. Bain closed his eyes.
'It was too big of a thing,' Callum breathed. 'It was just too big of a thing. It's not... it's not part of the course of life.'
His head bowed. He breathed heavily, then quickly. The cup dropped from his hands as he cried. His body heaved.
*
In the darkness of his room, Bain washed back another speed bomb. He shuffled the stack of notes beside the tray and drew out a sheet. He was too tired. Everything was exhausting. He felt like he'd been tired for decades. Fifty-three. A mop of grey hair. Amphetamines to function. 
To get out of bed. To talk. To be.
Lines and paragraphs blurred. Phone transcripts. Summaries. Names. The public appeal had seen them swamped with calls. Wading. He was wading through the sheer volume of information the public had thrown up.
Lang Ayre Beach:
16.00 Two people seen by a passerby. A pale youth, late teens. An older man described to be between forty and fifty years old. Arguing, swearing, odd behaviour. Disturbing.
14.00 A man lying with a jacket over his head. Bottles and pornographic magazines by his side. 
18.30 A male reported walking around in the nude.
And on and on. Every lead had to be chased down. He noted the red strokes where they'd chalked off another frustrating pot-shot. 16.00: Duncan Shaw arguing with his Pa about grades. 14.00: Ewan Boyd enjoying a couple of beers, an old copy of Playboy, and a kip on the beach on his day off. 18.30: Malc Dalling, to his apparent eternal humiliation, briefly caught out attempting a swift post-swim change.
He read through a few weird ones. Wifes ringing up about their husbands. False confessions. He reached for his tin and drank. His mind spat a replay of Callum Mowat's parents in the station reception. This tiny, tottering old couple, guiding their son out towards a small grey hatchback.
The last act of the day had been a phone call as he locked the station door. He'd heard Angus Tait's brisk tone down the line and sighed. He was half-listening as he patted his pockets for his lighter.
'... significant concerns about the quality and direction of the investigation... '
'... detectives from the Specialist Crime Division... '
'... overnight NorthLink ferry. They'll arrive at nine-thirty tomorrow morning. I expect you to be there to greet them.'
He'd got the idea. He found his lighter, lit up, and hung up.
Bain lifted the tray off his duvet and placed it on the bedside table. He'd gauged the balance of beer and bombs wrong. He felt shattered with a jangly, wired edge. Iridescent flecks bobbed in his vision. His back slid down the pillows behind him. 
He used to talk a lot about committing to an idea.
He felt a click there. Maybe he willed it. Probably he did. But it was a click nonetheless. Tectonic plates shifting in the grand design. 
Giving yourself over to something wholly.
He jerked his arm and wiped the sheets of paper from the bed. They scattered over the floor. He pulled the duvet over his shoulders and closed his eyes.
*
Little white circles danced across his vision. He watched them skit through the endless dark. 
Images contracted, bled and clarified and 
there 
were 
Curtains. He moved forward and drew back a sliver of fabric. 
A thick white flurry filled the sky; the fields around his home were coated with snow, and the line of hills beyond floated amongst the flakes.
There was a great undercurrent of peace amongst the swirl; it spoke of questions resolved through nature and a life that although in many ways was predictable and bereft of genuine connection or companionship was nevertheless rich and full of colour because it - all of it, every moment - was all relative and there had been found amongst the years ways to continue, ways to persevere and that in itself was a miracle.
The reflection of his face drifted in the thin slice of window he had revealed, and he was old. He was older than he remembered and older than he had ever thought possible. His face was a porcelain death mask lingering amongst the snow.
A grove of trees was visible through the flurry. Their branches picked spidery paths amongst each other like children's handwriting. There was a deer amongst the trees. Its hooves left cupped indentations in the snow, its antlers were mummified hands bent in a clawed grasp and then 
there was no deer 
and then 
there was a man. A man amongst the trees.
Bain pressed close to the window. He saw the deer again and it had wings; awful, black, papery wings. Bat wings. It lowered its head and licked at a red puddle amongst the white powder and then he saw a dark face through the the glass. His heart lurched and he saw the man close and clear and there was an incessant peal, staccato bursts, a livid drone.
He peeled his face from the pillow, a web of drool dangling from his lower lip. He slapped at his bedside table and seized the phone off its hook. Garbled shouting hissed over the line.
'... Sullom Voe... '
He glanced at the clock. Two a.m. He swung the duvet off, cradled the phone on his shoulder and reached for his fags.
'Bain... '
His nerves jangled. He drew on the fag and picked up the bag of powder. The phone wobbled on his shoulder.
'... happened again.'
*
Rain barrelled down in sheets. There was a preternatural spark in the air. Bain ran down the pathway, pushing past officers. He clambered down a slope and made for the rocky slip, the billowing sheet amongst the stones.
He caught Gillis in his line of vision. His eyes were red-rimmed. Beyond him the tide was vacillating between earth and sea and beyond that foaming black mounds poured elastically through each other as if the pure dark wretched mainspring of the world was unspooling.
Gillis separated from a small group of tired, puffy-eyed officers and fell into step alongside him. 
'Blair Anderson,' he said. 'Lives just past the oil terminal. Security guard saw him out looking for his dog. Only a couple of hours ago.'
Bain gave a curt nod. His torch beam intersected with others. It picked out Dr. Burn's face, a ghostly mask as he lifted his head. He peeled the sheet back as they sunk down. Bain's head pounded. Speed zipped through his system. He saw the wild hacks on the chest, chaotic red explosions, gaping punctures. The rutted carvings on the forehead. Circles within circles.
He heaved himself up and lurched over to the waves. His head swam. Disgust. Fear. Every bleak layer was peeled back to reveal something even worse. The rising swells were hypnotic and Burns caught him as he turned.
'It's a shock,' Burns whispered. He slipped his arm around Bain's back and wedged a hand under his armpit, trying to guide him away from the water. 'It's a shock to all of us. The Dundee folk'll be here in a few hours. The SCD. We need help here. We all need help. You can't bear the weight of this.'
Bain glowered and shook him off. Gillis tapped Bain's arm and beckoned him over. He looked equally dishevelled. Rainwater dripped from his fringe.
'These prints,' he breathed. 'These prints.'
Bain followed the torch's beam. He saw the muddy marks intermingling. His eyes cut over stones, hollows, and, at a further distance, smaller prints. 
Tiny, fresh prints. 
A child's footprints.
Rain puddled within them. His skin crawled. He jogged over, his bones creaking. Small prints, circling aimlessly. A trail across the slip of beach. Large prints emerging from the water. A clear path. A flurry. He tried to track back. The smaller prints expired.
'I can't figure this,' Gillis said. He was talking fast and loose. 'It looks like they were together. The kid. We're saying the kid here. We are. The kid walks along the beach with the... the adults. The adults veer into the water at some point, emerge closer to the pier. I don't know how this adds up, but it doesn't feel good. It doesn't feel good and it feels like we're short on time. There's more happening here.'
Bain was half-listening, circling round the wet prints. He balanced on slippery stones and picked a path down the shore. Gillis tripped after him, his torch throwing erratic bright shafts over the water as he wobbled.
'We've cordoned off the section of beach as best we can,' he huffed. 'There's officers scouring above and below us. But we're short on numbers. And it's not safe. There's groups of four, minimum, but I'm... Bain... '
Rocks loosed and skittered as Bain climbed up a muddy embankment. He scrambled through exposed roots and undergrowth, passing under the dark, circular openings of old sewage pipes. Wind bit and rain hammered. He stood directly under a pipe and felt along its curved iron base. The mouth was caked with grime.
Gillis watched him. He chewed the inner lining of his cheek. He glanced back down the beach and saw the distant beams of the officer's torches roving, passing through each other at sharp angles, binding momentarily into washy parallelograms. He heard barked instructions drowned by the waves. 
There was an edge and an abstract nature to everything and he wondered, fleetingly, if they were on the cusp of some terrible reckoning. He was aware he was outside of himself and on the verge of panic. He was also aware of the deceptions and limitations of viewing the world so consistently and exclusively through the lens of his own life, and yet this offered no help. He felt physically a convergence of markers; the wind, the air itself a pneuma, an implication of threat.
Bain was hauling himself up into the pipe. His hands slapped through muck. There was space for him to stand, albeit hunched over. When he looked down at Gillis, his face was streaked with dirt and grime.
Gillis saw the look in his eyes. The sadness and the spark. He struggled up the embankment. Bain knelt and extended his arm, heaving him up into the dank tunnel.
The smell was rank and bitter. Gillis sprayed the torch over the dirt and slushy piles. 
Fresh prints.
He ducked down to move in and tottered against the iron wall. Something scuttled over his hand and he snatched it away. Bain was still. His back was bent over in the confined space. His hands were on his knees and he was listening intently. 
Their own breath. Stringy white clouds. Rain pittering. Wet echoes. The memory of echoes. Wet sounds. Tinny, distant.
Crying.
A child crying.
Bain looked round slowly. Gillis watched him and felt something tight and restrictive in his chest. He splashed through a shallow puddle and Bain hissed at him.
'Radio,' Gillis whispered. His voice was peaky and strained. 'Call it in. We have to get everyone - '
Bain turned and pressed into the black tunnel. Gillis swore and moved after him, his hands trailing over the rusted iron seal around them.