Harsh Times in Umberstone Covert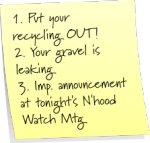 Mon, 09 Apr 2018
"See you tonight," Dan called to his wife as he left for work. "Love you lots."  However, he didn't get far, no sooner had he left the house than he opened the door again and called up the stairs.
"Mrs Tibbs has left one of her post-it notes on the front door again."
"What's it say? Bet it's the recycling. It's always the recycling."
"There's a list, it's one of those big post it notes. Number one, please remember to put your recycling out."
"I knew it. But I tell her, we don't have much recycling, we only need to put it out once a month at most. It's all right for her, she buys the bloody Daily Mail every day, gets through a bottle of wine every night, no wonder her recycling's always full. What's number two?"
"Your gravel is leaking onto the pavement causing a hazard for Umberstone Covert residents."
"Is our gravel leaking? Can gravel leak?"
"I had a look. There was one bit on the pavement. She could have kicked it back on the drive in a second, but no, she had to write a post it note."
"Is that it? Recycling and gravel?"
"No. The main item is that we're invited to a neighbourhood watch meeting tonight."
"Oh, god. Not another one. What's it about this time? It's not about parking anti-clockwise again is it?"
"It just says there's to be an important announcement."
"We'd better go I suppose, she takes record of attendance. We'll get post it notes all week if we're not there."
"Yes, and it'll be our only chance to vote against whatever her next mad scheme is. Do you remember her No Rude Numbers rule - Geoff at number 68½  still has mail go missing."
The meeting hall was packed. Mrs Tibbs sat at the front with the local vicar, two local councilors, the chief of police and a small group of her usual stooges.
"Ladies and gentlemen," she began, "and, of course, those of a transgender persuasion," she gave Molly Hackett a hard stare, "We are here because of a danger threatening the whole of Umberstone Covert. I refer, of course, to the woods."
Umberstone Covert was situated to the East of a small area of woodland. It was one of the reasons that Dan and Sally had bought their house, it gave the estate a rural feel and meant that you only had to step out of the house for a pleasant walk in the countryside.
Mrs Tibbs continued. "The woods are a danger to all of us. I have heard reports of 'foreign types' hiding out in the woods, perhaps gypsies, Russian spies, and perhaps Islamic fundamentalists. Either way we must protect ourselves against this threat with an extension of the neighbourhood watch."
At this point one of Dan's neighbours, Mrs Watson, stood up.
"That's nonsense," she said. "I walk my dog in the woods twice every day, I've never seen any Russian spies or Islamic terrorists."
"If you're admitting to regularly visiting the woods then the rest of us will judge what you're doing there," Mrs Tibbs responded. "You might be 'walking the dog' as you claim, or you might be buying drugs from the gypsies, giving secrets to the Russians, or selling arms to the Islamic terrorists."
It seemed an extraordinary claim, but Dan and Sally were shocked to see that Mrs Tibbs was rewarded with a round of applause. The vicar, the local councilors and police all spoke in turn in support of Mrs Tibbs and a vote was held to approve 'emergency action' to tackle the problem. Dan, Sally and Mrs Watson were the only residents voting against the motion.
It was only after a vote had been cast for emergency action, that Mrs Tibbs explained what the action would be. "The woods are now out of bounds. Anyone seen entering the woods 'to walk the dog' or sell arms to terrorists, will be arrested. A new Neighbourhood Militia will be formed with enhanced powers to patrol the woods and shoot spies and terrorists if necessary."
Dan and Sally's neighbours joined to queue to form the Neighbourhood Militia. They were issued high-viz jackets, riffles and a spy-spotters-guide, which mostly seemed to feature pictures of Jeremy Corbyn.
The patrols started immediately and lasted all day and all night. At any one time there were half a dozen men and women in high viz jackets marching up and down by the wood, barring dog-walkers and all other residents from entering. If hikers, or anyone else was foolish enough to be walking through the wood they were arrested at gunpoint and taken to Mrs Tibbs' Emergency Detention Centre.
A few days after the emergency meeting there was a knock on Dan and Sally's front door. It was Mrs Tibbs. "You don't seem to have signed up to the rota," she said, holding out a clipboard and for them to sign.
"We've no intention of doing so," Dan said. "We're against the whole idea of blocking off the wood. It's preposterous."
"I see," Mrs Tibbs said. "You're on their side."
She said no more and left, but the next morning when Dan left for work, rather than the post-it note he was expected, he was shocked to find a red cross had been painted on their front door. Later that day, when Sally tried to buy some eggs, bread and milk at the local shop she was refused service.
This was, of course, only the start of their harassment, which became a 24/7 existence, with dog poo through their letterbox, slashed tyres on their car and abuse hurled at them every time they left their house.
Eventually they decided they had no choice but to give in. "After all," said Dan, "It's just marching up and down for a few hours, it's not going to kill me. And if there is anyone in the woods it's better that I find them than one of Mrs Tibbs' mad brigade."
Dan was given a high viz jacket, a riffle and brief instructions of how to shoot anyone who looked a threat, especially anyone who looked like Jeremy Corbyn. His first shift was from 2.00 to 6.00 in the morning. He was greeted unenthusiastically by his fellow patrollers and sent to the far end of the covert, where he patrolled alone. It was quiet and depressing, but at least he didn't have to talk to the other Militia members.
About 4.00 a.m.. he heard a noise in the woods, a cracking of twigs. There was clearly someone there, maybe there really were gypsies, Russians and islamists living there.
"Who's that?" he called, pointing his gun unsteadily.
"It's only me, Mrs Tibbs," a voice called back. "I thought I heard some gypsies."
"Let me come and help," Dan said. He entered the wood, and there was Mrs Tibbs, alone, without so much as a rifle or high viz jacket (she never took part in the patrols herself).
"It came from over there," she said pointing.
"Oh my God," said Dan. "You're right, it's an Islamist. He's got a gun." Dan raised his rifle and fired. Mrs Tibbs fell to the floor, blood pouring from her.