Rubber soles – the shoes from hell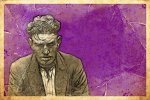 Wed, 17 Jun 2015
It is the summer of 1976. The long, hot, scorching summer of 1976. It is the dawn of punk and the inauguration of an upsurge in safety pin sales totally unanticipated by market forces. As we sit swatting flies, rock legends Chicago, Pussycat and Dennis Roussos take turns perching cheerfully at the top of the music charts. But all the talk among those yet to buy their first razor is of the Sex Pistols: the snarling, spitting pop combo from North London shortly to be responsible for a whole generation of bad hair days. There is a wind of change in the air; the sense that something is happening, that something is spiralling out of control, the feeling that nothing will ever be the same again. And there is a man. A thirty-six-year-old man who, for the purpose of this sorry exercise in grim futility, we will refer to as my father.
Even now, the only thing I have to say about that afternoon is: What could he have been thinking? Just what exactly was going through his head?! The more charitable among you might be prepared to put his peculiar behaviour down to some form of mid-life crisis but I'm not so sure. All I know is that with just one – albeit woefully – misjudged action my father managed to wipe away a sizeable portion of any respect that I held for him and become, from my fourteen-year-old perspective, quite possibly the uncoolest man on the planet.
And what was his crime?
I'll tell you what his crime was but first allow me to backtrack slightly and attempt to provide you with a brief pen picture of the person who committed this heinous violation of good taste. Bear with me for the odd paragraph or two and try to let me put you in the shoes of such a man:
Let's see… You're on the wrong side of thirty. You have a wife and three kids. You have a mortgage, a second-hand car and a steady if not particularly well paid job at a local factory. You have a garage – an allotment even – and on weekends you usually go to the pub and meet up with the family to play cards. Very nice, some might say – nothing too unusual but very nice all the same.
Then one day you hear a noise on the radio. A noise that shocks you to your very core. At first it doesn't even sound like music because it is totally unlike any kind of music you have ever heard before. Screeching, anarchic guitars are wielded like machine guns against drab convention; the singer – if you can call him that – makes no attempt to sing but instead hurls himself at the microphone like some kind of demented daemon. Try as you might you cannot get this sound out of your head; it seems to follow you around wherever you go. Prodding you, nudging you, forcing you to remember a feeling buried deep in the pit of your memory.
Then you see pictures of the originators of this cacophony of chaos: underfed, anaemic teenagers dressed in mutilated clothing, spitting defiance and warm phlegm in the direction of anyone who happens to wander by. And no matter how much you try to ignore these images they will not go away. Despite yourself, you find yourself being drawn towards whatever it is that is occurring. Finally, when you can bear it no more, you take a long, lingering look in the mirror at the person you have become and realise that it all could be slipping away from you. So what do you do? How do you react to the realisation that your youth has been eroded away by mediocrity and routine?
Well, what my father did – according to all available evidence – was to go for a total change of image. Something that would perhaps bring him more in line with what people were wearing at that pivotal moment in sociological history. Nothing too drastic, mind you. Nothing too OTT. Just enough to let everyone know that he had not yet achieved middle-age; that he could be as hip as the next man when he set his mind to it.
***
It was Saturday afternoon. My sister and I were sitting in the living room watching TV when my father arrived bearing the package that contained the physical manifestation of an inner struggle that had obviously been going on for some time. "I've got something to show you," he informed us breathlessly.
Looking nervous and excited, my father began to peel away the brown paper that covered this mysterious object. Whatever it was, I noted, it was oblong in shape.
In many ways it is a great pity that my father had chosen to keep to himself the details of whatever had caused him to take such a radical step. Surely if the Punk revolution was having such an effect on his senses it would have been far better to share this torment with someone else – someone, say, like myself. For one thing, (having read up on the subject) I would probably have been able to advise him on the most suitable locations for the insertion of safety pins; likewise, I may also have been able to offer my opinions as to the most effective means of making one's hair point northwards (soap, actually, not hairspray or gel). More importantly, however, with a little rumour-mongering the occasion of the unveiling of my father's new alter ego could quite possibly have evolved into a seminal family event – a Wonder Years moment, no less. A moment etched into celluloid time, such as the occasion in which that little American kid on the programme stole his first kiss, or when his dog died – a moment of extraordinary revelation to be accompanied by several paragraphs of schmaltzy, heartfelt self-awareness, delivered in an apple pie American accent: one of those rare episodes that can bind a family together.
Either that or it would have been even more buttock-clenchingly amusing.
The brown paper fell away and my father slowly began to open the box that he was hugging to his chest like a new-born puppy. What could it contain? What was inside the cardboard receptacle that held the key to the wardrobe of this unprecedented act of reinvention? Were we about to see my father discard the hosiery of establishment and step into the leathers and zips of the New Age? Would he soon be sporting a stud through his nose and a pair of bondage trousers? Just what had he bought?
The box fell open to reveal a pair of very large, very black, platform shoes.
My sister and I began to laugh as the expression on my father's face quickly moved from one of anxious anticipation to a grimace of confusion and, finally, to one of excruciating embarrassment. Then, as our eyes pleaded with him to put an end to this act of couturiel suicide, he removed his normal shoes and stubbornly manoeuvred his feet into their modernistic replacements.
These were no ordinary platform shoes. With eight-inch heels forged from the purest moulded plastic, they filled the room with their dreadful presence. It was as if someone had scraped away the silver from the shoes that Elton John had worn in Tommy and then sold them to my dad. Already a tall man, his head now brushed the ceiling as he tottered before us and waited for our reaction.
We laughed some more.
***
Being today more or less the same age that my father was when he purchased his tribute to the Glitter Band, it is tempting to claim some form of empathy with his ill-conceived attempt at a makeover. But I simply cannot. Naturally, having myself evolved into someone who teenagers now refer to as 'middle-aged', I am not immune to the same sort of pangs, insecurities and gaping chasms in one's knowledge of youth culture that led my father up the path of insanity. However, even though I am nowadays often forced to lie through my teeth when anyone mentions a pop group that happens to be in the top ten, I still cling to the conviction that, if and when my hormones demand that I make such a transformation, I would likely make a better attempt at becoming someone else than my father did. I would not, for instance, replace my current attire with the tartan kilts and crimson lip gloss of Steve Strange and his band of New Romantics from the early eighties. Nor, for that matter, would I grow what remains of my hair and slip my portly frame into the tight jeans and willowy blouses of Deep Purple circa 1973. I am more sensible than that. At least I hope I am.
Actually, in the end he turned out to be more sensible than that. In fact, the attachment between those shoes and my father was over before the wedding vows had even been spoken. The sum total of their relationship was confined to that Saturday afternoon and that room – and our mocking laughter. Those shoes very quickly took on the status of a one-night stand: stealthily discarded and given rented accommodation amongst the mothballs and copies of Readers Digest at the bottom of the wardrobe. He wore them once and only once.
***
There is, unfortunately, an aftermath to this brief meander down memory's back alley. Perhaps even a lesson to be learned somewhere along the way. It's what can happen when the sentimental among us allow our misguided perceptions of what constitutes fair play to take precedence over less ethereal qualities such as good sense and reality. It's the reward I got for attempting to soften the blow by making it known to my father that those shoes, after all, weren't as bad as our laughter that day had implied. My intention had been borne of genuine feelings of sympathy concerning his predicament; my desire had been only to make him feel a little better about himself, to restore some of the self-confidence that he had lost as a result of his aborted stylistic metamorphosis. It was the wrong thing to do.
Never being less than a thrifty sort of person, my father took my words of encouragement to be some kind of hidden signal. Extraordinarily, he somehow managed to reach the conclusion that I, in fact, had suddenly and mysteriously developed an overpowering urge for those shoes to become part of my personal property. And so he gave them to me!
The actual exchange of goods was presented to me as a fait accompli; being a constituent of a household in which the less senior members rarely possessed more than one pair of shoes (and one pair of plimsolls or daps as they are known in Bristol (pumps in Burnley)), which were replaced only when they were worn out, my father waited until my current pair were literally on their last legs before furnishing me with the items of footwear that would soon become my life's greatest burden. Thus in one easy movement that was both cunning, cost-effective and seamless in its execution, my father hoisted the remnants of his afternoon of middle-aged madness onto my shoulders. Or rather, he provided the shoes for me to step into. Instead of reinventing himself, he reinvented me.
And so I spent the summer of 1976 a pimple-faced relic from a bygone age. The prisoner of a pair of shoes that proved an instant conversation stopper wherever I hobbled. Eight-inch heels that steadfastly refused to succumb to my numerous attempts to destroy them on the way home from school so that they would have to be replaced. A chick magnet whose poles had been irrevocably reversed. Unscuffable, unburnable and with an apparently unlimited lifespan, those shoes enabled me to experience the summer of punk from a vantage point many metres above my contemporaries.