The Chips at Twerton Park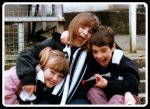 Tue, 28 Dec 2021
1 likes
When Raleigh's ship came into port the gentry gathered round
To see the cargo in its hold of veggies small and brown.
But little did the people know as Walter disembarked
That what he'd found would one day make the chips at Twerton Park.
Once on a trip to Liverpool I had a sausage roll.
At Middlesbrough I bought a pie from the hut behind the goal.
And Leicester's chips, although not bad, just lacked that vital spark
No football club has food to match the chips at Twerton Park.
I've eaten curry in Madras, pastrami in New York
And from our local takeaway some sweet and sour pork.
By a sandy beach in the Cyclades I've even sampled shark,
But nothing ever tastes as good as the chips at Twerton Park.
My dear old Mum would greet us home, her peeler in her hand.
So proud she was to serve us up fresh from her old chip pan.
The fat red hot and a pinch of salt, her years old trade mark!
Although she tried, they weren't the same as the chips at Twerton Park.
Whenever I can, I take my kids down to see Bath City.
Sometimes the football's very good and sometimes a bit poor.
But as every Saturday comes around the children do remark.
'Come on Dad, we want some chips. Let's go to Twerton Park!'
---
A note of explanation:
This is little something that I rescued from my archives and digitally remastered a bit. A poem I wrote about twenty-five years ago when I used to go with my three lovely kids to watch Bath City playing in the sixth tier of English football. The standard of play on the pitch wasn't all that special but standing in the fresh air for a couple of hours, chatting with the friendly supporters of all ages (some of who had been attending matches at the magnificent / dilapidated Twerton Park stadium since the Middle Ages) and even exchanging views with the players themselves became part of our weekly routine. But the cherry on the Saturday afternoon cake was a plate of hot, crispy chips. In terms of non-league football cholesterol-generating greasy snack bar food, they were top of the league.
Image:
Created by me. My kids at Twerton Park in 1997, looking excited in anticipation of their half-time plate of chips.